Royal Mail strike ballot planned over privatisation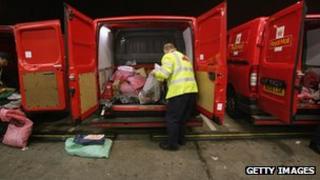 Postal workers could vote on whether to strike over issues linked to the government's plans to privatise Royal Mail, their union has announced.
Communication Workers Union reps have voted to press ahead with a ballot no later than September if "satisfactory agreements" are not reached.
It would be the first such ballot since September 2009.
Ministers say the sell-off is necessary to help Royal Mail to compete - a claim dismissed by the union as "nonsense".
Increased profits
The CWU said it wanted to protect jobs and maintain pay, while preventing the deterioration of its members' pensions and conditions and any worsening of postal services.
Deputy general secretary Dave Ward said he thought a ballot was "inevitable".
He said there would be a national day of action in protest at the privatisation plans, which could include a 24-hour strike.
The government was "talking nonsense" and had misled the public over its plans, he told delegates at a CWU conference in London.
"Workers have embraced modernisation, and helped increase profits by 60%, so why should we just hand it over to someone only interested in making money?" he asked.
"We have a duty to defend the postal service - and we will."
Business Secretary Vince Cable has said 10% of Royal Mail shares would go to existing employees, while the rest would be sold-off.
The government and Royal Mail management say the service needs access to private capital in order to grow and compete.
Plans for privatisation have been on the table for a number of years, with legislation to pave the way for the sale enacted in 2011.
"We do not take the decisions to hold a strike ballot lightly," Mr Ward added.
"However, we will stop at nothing to ensure the future of our members' jobs - and of the services they deliver - are protected."
Pay-rise 'rejected'
If the ballot goes ahead, it could include an option for postal workers to boycott delivering mail for rival companies such as UK Mail and TNT.
Royal Mail said competition with parcel delivery companies and the threat of quickly losing custom was one of the reasons it wanted to reach a swift agreement with the union.
"Royal Mail proposed a legally binding, three-year, highly competitive agreement to deliver its agenda for growth and industrial stability that included an 8.6% increase in base pay over three years. It has been rejected by the CWU," a spokesman said.
"We believe that a ballot on strike action is inappropriate. Disrupting the service Royal Mail provides to its customers is not helpful."
The spokesman added that talks were on-going and Royal Mail was committed to seeking an agreement.
A spokeswoman for the Department for Business added the decision was "very disappointing" and that the government was committed to going ahead with the sell-off "in this financial year".
"We encourage the union to continue talking to Royal Mail management in order to achieve settlement on the issues they are concerned about," she said.