Drink-drive deaths show 26% rise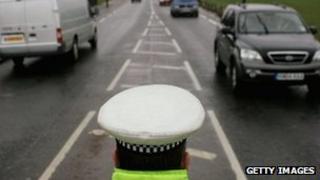 The number of deaths in drink-drive accidents on Britain's roads soared by 26% in 2012, provisional figures show.
A total of 290 people were killed last year, compared with 230 in 2011, the Department for Transport (DfT) said.
It also said 6,680 accidents in 2012 were linked to alcohol consumption.
Since records began in 1979, when there were 1,640 drink-drive deaths, the number has shown a general trend of declining. The 2011 total was the lowest recorded.
In 1989, there were 810 deaths and in 1999, there were 460.
'Cause for concern'
The DfT pointed out that despite the apparent sharp rise in 2012, the number was still about 25% lower than in 2009 (380 deaths) and almost 40% lower than the 2005 to 2009 average.
Last year, 1,210 people involved in drink-drive accidents suffered serious injuries and 8,500 people were slightly injured.
Among those killed in drink-drive accidents, most (68%) were drivers, motorcyclists and cyclists over the legal alcohol limit.
The rest were other road users involved in the accident, but not necessarily over the legal limit themselves.
Kevin Clinton, head of road safety for the Royal Society for the Prevention of Accidents (Rospa), called for a lower drink-drive limit and effective enforcement of existing laws.
"Often it is an innocent person who suffers, not just the driver who was over the drink-drive limit," he said.
David Bizley, of the RAC motoring organisation, said the figures were a "cause for concern".
"Clearly more needs to be done to ensure that the anti drink-driving message pioneered by the government's THINK! campaign really sticks with motorists up and down the country."
'Cold March's impact'
The DfT extrapolated the figures from a sample of coroners' reports.
The official figures are not expected to be available until next year.
The BBC's transport correspondent Richard Westcott stressed the statistics were only provisional, adding that last year's provisional figure had been 50 deaths higher than the final, official figure.
The department also published provisional figures for all types of accidents in the first three months of 2013 - a period which included the coldest March for 50 years:
340 people were killed in reported road accidents - 18% down on the same period in 2012
Serious injuries saw a 19% drop, and slight injuries fell by 14%
Motorcyclist, cyclist and pedestrian deaths and serious injuries fell sharply
The DfT said it was likely the cold weather had been a factor in the dip in casualty numbers.