Monsters University drinks bottles recalled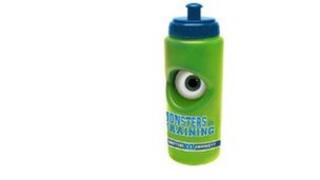 A children's plastic drinks bottle featuring characters from the Disney animation Monsters University has been recalled.
Manufacturer Spearmark International said the bottle's spout was a possible choking hazard.
The company said it had learned that the spout could be pulled out of the cap "in rare cases".
The company has advised customers to return only the cap "as a precaution" for a full refund.
Approximately 7,000 of the bottles, which have also been available as part of a bag and bottle set, have been sold since May.
Retailers including Asda, Argos, Amazon and John Lewis have sold them as part of merchandising for the children's film Monsters University, which is still currently showing in UK cinemas.
Spearmark said it had received four complaints, and had recalled the bottles in the UK and Republic of Ireland.
No other Spearmark or Monsters University-branded products are affected by the recall.
A spokesman said: "Spearmark have been made aware of a potential choking hazard posed by their Monsters University-branded plastic sports bottle, and have made the immediate decision to instigate a full product recall to avoid any risk to consumers.
"Whether or not the spout has pulled off, we ask everyone to send the cap only to Spearmark International Ltd, Howard Road, PE19 8GA for a full refund including postage. No receipt is needed but please tell us where you bought it.
"Alternatively please take the bottle back to the store where it was purchased for full refund. "
The recall applies to the bottle carrying the product number 80902 and the bar code 5011231809022 and for the bag and bottle number 93761 with the bar code 5011231937619.
The bar code can be found on the bottom of the product.