Councils spend £1,750 per car on charging points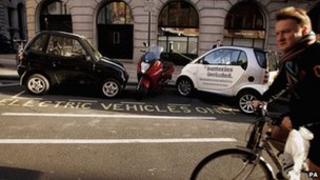 Councils across the UK have spent £7.2m on electric car charging points in the past three years but many of them are not being used, the BBC has learned.
Research by Radio 4's You and Yours shows one in six councils with charging points has at least one point that has not been used at all in the past year.
Council spending on charging points equates to £1,750 per electric car.
The Department for Transport said it was investing in electric cars but change would not happen "overnight".
Less than a third of the authorities have a charging point being used on average more than once a week.
More than half of these are being used solely by council vehicles.
Helen Fletcher, an estate agent in Gateshead who owns an electric car, said: "We need more charging points but specifically faster charging points. I think that's the issue. You can't wait all day to move onto the next point for your journey. So it's the fast points we need more of and easily accessible with clear signs."
More locations than vehicles
Responses to Freedom of Information requests from 91% of councils in the UK show that 139 of them have spent a total of £7.21m on charging points since April 2010.
The latest figures from the Driver & Vehicle Licensing Agency (DVLA) show there are 4,100 electric cars in the UK, but it cannot say how many of them are privately owned or belong to local authorities.
Twenty-five (18%) of the 139 councils said they had at least one charging point that had not been used at all between April 2012 and April 2013.
Forty-one councils (29%) had a charging point that was used more than 52 times in the same period.
Prof David Bailey, a transport expert at Coventry University Business School, told You and Yours: "At the moment there are hardly any electric cars on the road. There are more charging points than there are electric cars.
"Much more effort needs to go into stimulating the demand side and educating people so that they know how to use these cars."
He said: "One of things that we've found from our studies is that people actually use them in a way where they charge at home and at their place of work. They don't tend to need that charging infrastructure. I don't think many of these charging points will ever be used."
Prof Stephen Glaister, of the RAC Foundation, who is himself an electric car owner, said: "The problem is fundamentally the cost of manufacture of electric cars is far too high to make them available to the general public.
"Even with the benefit of a £5,000 grant for the purchase price they are just too expensive, and that's why there have been very few sales."
Prof Glaister said: "There are much better ways of spending the money that has been spent on public charging points if the objective of the government is to reduce carbon emissions from vehicles.
"Whichever way you look at it, it's hard to see that street plug-in places are a solution to anything to do with electric vehicles or carbon emissions."
'Ridiculous'
Tom Barnard, director of communications at Nissan, said: "There are a few in silly places. If you put one in a short-term pick-up point at a railway station it's clear that you're not going to get much of a charge in 15 minutes, especially if it's one of the lower-speed chargers, a slow charger.
"Even at Heathrow airport they've got slow chargers in the short-term car park, so it's ridiculous."
"We're learning, everybody's learning, and I think it's useful that these points can be moved to places to where they're more useful as people learn," he said.
A Local Government Association spokesman said: "You have to invest in the charging infrastructure before people start using it.
"Electric cars are a huge future international market. One barrier to that market taking off is the limited range before a car needs recharging, so investment in charging points is a vital precondition to this low-carbon, sustainable and potentially hugely profitable market of the future."
Shadow transport secretary Maria Eagle said: "The reason the charging points that do exist are under-used is because the government has failed to deliver the national recharging network, pledged in the coalition agreement, that would have boosted confidence in the electric car market."
A Department for Transport spokesman said: "The government is putting serious investment into the UK low emissions vehicles sector, including for electric cars.
"We are seeing encouraging growth in the number of people using electric cars but no one is pretending that everything can change overnight.
"That is why we are continuing to invest in the infrastructure that will support take up of this new technology across the country."