Summit planned to help military personnel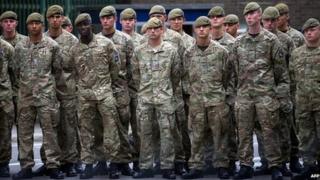 The Labour Party is to host a summit with leading military charities on how to deal with discrimination against the armed forces.
A recent poll suggested one in five military personnel had been refused service in a bar or hotel over fears they would cause trouble.
Labour is calling on the government to make it a criminal offence.
The Ministry of Defence (MoD) has said discrimination against its servicemen and women is unacceptable.
This programme has heard from dozens of military personnel who say they have been refused entry into pubs and clubs over the last couple of years.
The owners of a bar in Coventry were recently criticised for turning away two soldiers in uniform who wanted non-alcoholic drinks.
They later apologised.
But some pub owners say troops often cause trouble which ends in violence and damage to their property.
Labour wants a new bill to outlaw discrimination against service personnel.
Stories of soldiers going to war for their country and then being barred from pubs when they return home have been reported in the newspapers for years.
Sir Simon Wessley, director of Kings College London's centre for military research, told BBC Radio 4's Today programme 2% of people in the UK have openly hostile views to people in the armed forces.
But dozens of soldiers and veterans have contacted the programme in recent weeks, claiming it is getting worse.
They claim some pub landlords refuse to let them in because they are worried they will cause violence.
Refused entry
A 21-year-old private, who does not wish to be named, told me how he and his comrades were refused entry to their local nightclub.
He said: "We got in a queue, none of us were drunk, I don't drink myself so I definitely wasn't drunk. And when we got to the bouncer at the front of the door, he said, 'Sorry lads, it's not soldier night tonight.' He thought we were going to cause trouble."
His words resonate with the dozens of military personnel who have contacted us through social media, email, and text messages.
A poll conducted by the Conservative peer Lord Ashcroft in 2012 suggested one in five soldiers had been refused service in bars and hotels and more than one in 20 had experienced violence while in uniform.
The Labour MP for Dunfermline and West Fife, Thomas Docherty, initiated a call for new legislation that would make it illegal to discriminate against military personnel by refusing to serve them in hotels and pubs.
The bill would also mean certain offences committed towards members of the armed forces would be treated as "aggravated" which would mean a harsher penalty for the person convicted of the crime.
Rowdy reputation
Mr Docherty said British soldiers did have a reputation for being rowdy and provocative but he insisted they had changed.
He said: "There is this kind of media perception historically but the Army has taken huge steps in recent years to change its culture and I think society hasn't caught up with the changes the Army has made."
But research from King's College London suggests there is a strong correlation between psychological trauma incurred in places like Afghanistan and Iraq and aggressive behaviour back home.
A recent study published in the Lancet Medical Journal supported this research. But results of other studies show abusive behaviour is not always linked to returning from deployment - and that the risk of violence may be partly related to a soldier's upbringing or early anti-social behaviour.
A former pub landlady who wants to remain anonymous said most service personnel were troublesome.
In an email she said: "Surely questions should be asked about why these serving members of the forces feel the need to go out and get blind drunk, fight and then end up crying."
The government said the military covenant that was enshrined into law in 2011 showed its commitment to the armed forces and if people were keen to support the military they could join the Community Covenant scheme which is about local communities doing more to understand the forces and the problems they face.
The MoD has invested £30m into the project over four years.
The Minister for Defence Personnel, Welfare and Veterans, Mark Francois, added that he had no requests from Army chiefs for a new law.
"At the moment we think there's tremendous public support for our armed forces and we don't necessarily need to legislate."