Non-media firms in hacking probe, police confirm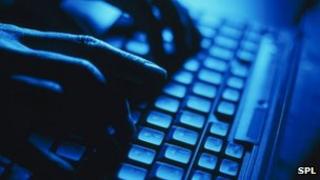 Non-media firms and persons are being investigated in a criminal inquiry into computer hacking and privacy breaches, Scotland Yard has confirmed.
The statement related to Operation Tuleta, which covers computer hacking.
The Met Police comments came as MPs step up inquiries into claims that firms used rogue private investigators.
But the Met would not confirm reports suggesting a list of 200 private detective clients featured in ongoing criminal investigations.
Operation Tuleta was set up in 2011 alongside the investigation into allegations of phone hacking by journalists.
The Met said that in context of Operation Tuleta it was "aware of companies and individuals, outside of the media industry, who are suspected of having committed criminal offences.
"We are not prepared to provide any information that may lead to the identification of any individual or company who may be of interest to that investigation."
It added: "As this investigation is ongoing, and there have been a number of other investigations directly linked to the work of private investigators over a number of years, we do not hold any single 'definitive' list of clients."
The Met said it would not risk prejudicing future potential prosecutions or compromising its responsibilities by releasing details where there was no intelligence or evidence of an association with the criminal actions by a private investigator.
But it said: "We do not recognise media reports that suggest we... hold a list of 200 other 'clients'."
Licensing proposals
The Serious and Organised Crime Agency (Soca) has given details of 102 companies and individuals linked to private investigators prior to 2008 to MPs on the Home Affairs Select Committee on a confidential basis.
The committee chairman, Keith Vaz, says he is writing to regulators in the finance, legal, security and pharmaceutical sectors for information about the allegations.
But he has also demanded an explanation from Soca as to why the names it provided it should be kept secret.
A separate list featuring details of about 200 clients alleged to have employed people involved in current criminal investigations was reported to have been handed to the Metropolitan Police.
Meanwhile, Home Secretary Theresa May is shortly expected to announce proposals that will require private detectives to have a licence to operate, barring anyone found guilty of hacking or "blagging" (obtaining information by using a false identity).
The Met Police said it supported the "strong regulation of the private investigation industry, and a system that allows for a client to perform due diligence checks on the individual or company they wish to hire".