Open up parole hearings to victims, says commissioner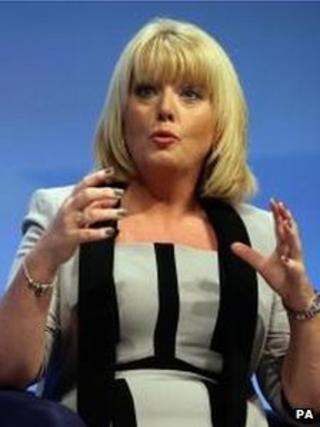 Crime victims should be allowed to sit through Parole Board hearings, Victims' Commissioner Baroness Newlove has said.
Victims can currently appear only to make a statement to the panel which decides on the release of offenders from prisons in England and Wales.
Lady Newlove said she would be pressing for them to be given the option to attend the whole of the proceedings.
She also urged improvements to a scheme which updates victims about offenders' progress through the prison system.
Lady Newlove recently discussed the role of the victim liaison officers with the Ministry of Justice.
'Lesser importance'
Lady Newlove, who took up her role in December, became a campaigner for victims in 2007 after her husband Garry was murdered when he interrupted vandals outside their Warrington home.
Her three-year post will see her advise ministers on aspects of the criminal justice system in England and Wales affecting victims and witnesses.
She said: "The parole process currently makes victims feel as if they are of lesser importance than the offender.
"It is a blunt system which is sometimes out of touch with victims' emotional needs and must do more to involve victims in the process. I will do everything I can to change this."
She said victims need to be "personally reassured that the offender had been rehabilitated and that their family would be safe".
"A decision made behind closed doors 'in the public interest' does not provide them with that reassurance," she added.
Mrs Newlove said Parole Board hearings appear "less legally rigorous and transparent" than the trial and sentencing process at court.
Victims should be allowed to sit through the hearing or follow the proceedings via a video link, she suggested.
Victims' code
Lady Newlove was also asked by Justice Secretary Chris Grayling to make recommendations to improve the Victim Contact Scheme, which is managed by the Probation Service.
It works with victims of crime in cases where the offender has been sentenced to custody for 12 months or more for a violent or sexual offence.
She said it "does not live up to expectations currently and unless it is addressed it will only continue to lead to victim dissatisfaction".
Victims and their families are not always informed when offenders are given day release from prison or provided with advance notice of the actual release, she said.
Justice minister Jeremy Wright said the Ministry of Justice it would be "looking closely" at Lady Newlove's recommendations as further improvements were made to victims' services.
"Too often victims tell us they are treated as an afterthought by the justice system and we are determined to put this right," he said.
"A new victims' code will tell people what they can expect from the moment they report a crime to the end of a trial and who to demand help from if it is not forthcoming.
"We have increased training for probation staff so they are more aware of the needs of victims and their responsibilities to them."