Happiness index shows 'small improvement' in 2013, ONS says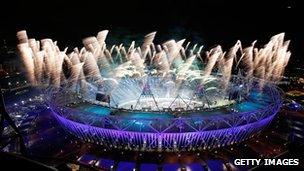 A UK-wide well-being survey has found "small improvements" in people's happiness over the year.
The proportion of people rating their life satisfaction as seven or more out of 10 rose from 75.9% to 77.0%, the Office for National Statistics said.
It said the Olympics and Diamond Jubilee may have "influenced people's assessment of their... well-being".
The survey is carried out to help the government develop policies to improve people's well-being.
The ONS also compared its data from 2007-2011 with European Union figures for that period and found that the British were happier than the French, Germans and Italians.
The UK ranked 10th for life satisfaction out of 27 EU countries, according to the European Quality of Life Survey, with an average rating of 7.3 out of 10 in 2011.
The ONS said the UK's rating was unchanged between 2007 and 2011, showing a "picture of stability" in contrast to a decline in happiness in many EU countries.
It also showed a small reduction in anxiety levels, with the proportion of people rating their anxiety at a higher level of six or more out of 10 falling from 21.8% to 20.9%.
Women rated their anxiety levels higher than men. The average anxiety rating for women is 3.1 compared with 2.9 for men.
Yet on balance, women were found to have higher life satisfaction, consider their activities to be more worthwhile and rate their happiness slightly higher than men.
People aged 45 to 54 were the most dissatisfied, while younger people rated their happiness above average and retired people were the most content age group.
Married couples or those in civil partnerships rated their life satisfaction highest, with the average score at 7.8 out of 10. The ONS pointed out that this was higher than for cohabiting couples who reported an average of 7.6 out of 10.
Widowed and single people rated their life satisfaction lower than those in couples, at an average of 7.3 out of 10 and 7.2 out of 10 respectively.
However, divorcees or separated people rated their life satisfaction lowest, at an average of 6.8 out of 10.
The ONS said the reason for the small uptick in the nation's well-being between 2011/12 and 2012/13 was "not fully understood at this stage".
Though measuring happiness was "complex", the ONS said the factors most associated with personal well-being were health, employment situation and relationship status.
The survey found no significant changes in average ratings for life satisfaction for any of the self-reported health groups or among unemployed people - despite improvements in the labour market.
It did however identify an improvement in average ratings for life satisfaction among people in all relationship statuses.
The ONS said that over the past year, the UK had celebrated several special events, such as the Queen's Diamond Jubilee which included a special bank holiday and the 2012 Summer Olympic and Paralympic games.
Glenn Everett, programme director for measuring national well-being at the ONS, said the events may have boosted well-being because they were perceived as "one-off", "once-in-a-lifetime" events.
"The other part is that Britain did well in the Olympics and the Paralympics," he said.
The first well-being survey was released by the ONS in 2012. Prime Minister David Cameron described it then as crucial to finding out what the government can do to "really improve lives" - but Labour ridiculed the survey as a "statement of the bleeding obvious".
The government maintained that it wanted to take into account quality of life alongside its "key priorities" of creating economic growth, jobs and opportunities.
A spokesman for the Cabinet Office said: "Finding out what will really improve lives and acting on it is important and having evidence will help us to find the best ways of doing so. Today's figures published by ONS are a welcome further step towards developing trusted and accepted national statistics for well-being to inform our decisions."
Related Internet Links
The BBC is not responsible for the content of external sites.