Newspaper review: Twitter abuse debate continues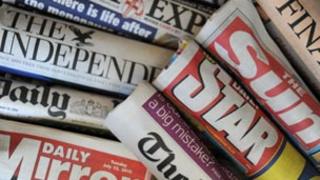 Several papers continue to examine the use of sexist and abusive comments on Twitter.
The Guardian says "men hating women who seek or exercise power is an ancient trope" and suggests that Boudicca may have been subjected to sexually explicit abuse.
It points out that while Twitter may have a moral duty to protect its users, it should not be held liable for the actions of individuals.
The Times warns that if Twitter fails to find ways of policing itself its users will move to sites that are "less tolerant of unacceptable standards".
Writing in the paper, columnist Joan Smith thinks it is evidence that "casual sexism is back - and nastier than ever".
Minimum wage
Immigration Minister Mark Harper takes to the Daily Mail to defend the government in the ongoing row about new mobile billboards that urge people who are in Britain illegally to "go home or face arrest".
He derides critics who have described the measure as racist and accuses them of encouraging illegal immigrants to break the law.
One of the architects of the national minimum wage introduced by Labour 15 years ago tells the Independent that the policy no longer works because the pay does not rise with inflation.
Professor Sir George Bain, the first chairman of the Low Pay Commission, says the gap between the minimum wage and the amount needed to meet rising living costs will only widen over the next 15 years.
He is calling on the government to adopt a more long-term approach to the situation.
Drug prescriptions
The Daily Mirror focuses on the Moors murderer Ian Brady's failed attempt to prove he no longer needs to be detained in a secure psychiatric hospital on Merseyside.
It says Brady's legal challenge, brought because he wanted to be moved to an ordinary prison, has cost the taxpayer £500,000, including £200,000 in legal fees for the local NHS trust.
A Merseyside MP, Bill Esterson, voices his "outrage", pointing out that the money "could have been spent on mental health patients desperate for help".
"Prozac Nation" is the headline in the Sun, as it reports that Britain has seen a dramatic rise in the use of anti-depressants.
It says 50 million prescriptions were written in England alone last year, an increase of 460% since 1991.
The paper says doctors are prescribing the drugs too readily because patients can wait months for counselling.
Phone addicts
Budget airline Ryanair is said by the Times to have come up with a new "wheeze" to save money - telling its pilots to fly more slowly to conserve fuel.
The paper says the measure will add an extra two minutes to every hour's flying time.
It adds that accounts published on Monday reveal that passengers are paying more in ancillary charges, such as £105 to check in a bag if paying at the airport and £70 for forgetting to print off a boarding pass.
And finally, good news for smartphone addicts whose digits are feeling the strain of hours of texting, emailing and internet browsing.
The Daily Telegraph reveals that one network provider has come up with a way to prevent injury and fatigue - a miniature weight training device called "thumbells" to build up thumb strength.