Heatwave gives way to downpours and flood warnings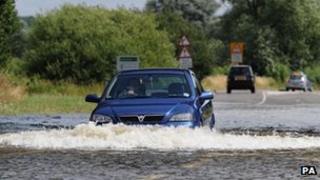 Heavy rain has fallen across parts of the UK as the hottest July in seven years ends on a wet note.
Met Office yellow "be aware" warnings for rain are in place for northern England, Scotland, and the West and East Midlands.
Overnight rain caused flooding in the High Street in Market Harborough, Leicestershire, and parts of Newcastle.
There are four flood warnings, in Derbyshire, Warwickshire and Leicestershire.
Carlisle had 73mm (2.8in) of rain in 12 hours, close to the average for the whole of July. And there was more than 60mm of rain in parts of Leicestershire on Saturday evening.
Newcastle City Council said the Scotswood Road near the River Tyne had been closed due to "floodwater and silt".
Durham County Council urged motorists to take care because of standing water across roads in the county after heavy rain.
The number of Environment Agency alerts in the Midlands, north-east and north-west of England began to fall during the morning.
The flood warnings still in place relate to the River Dove and Egginton Brook in Derbyshire; Hilton Brook at Sutton on the Hill and Hilton, Derbyshire, and on the River Anker at Grendon, Bradley Green, Mancetter and Witherley in Warwickshire and at Atherstone in Leicestershire.
The Scottish Environment Protection Agency has issued a flood alert for Aberdeen and Aberdeenshire. Seven other alerts issued earlier are no longer in force.
BBC weather forecaster Darren Bett said a band of heavy rain was clearing away from northern England but would remain in Scotland into the afternoon.
There would be isolated heavy showers in south-west England and Wales through the afternoon and more rain would push northwards overnight, he added.
The wet conditions comes after July had the longest spell of hot weather across whole of the UK since July 2006 with temperatures exceeding 28C somewhere in the country for 19 consecutive days. The highest temperature - 33.5C - was recorded in west London on 22 July.
Forecasters say there are likely to be periods of more showers at the start of next week, especially towards the north and west of the UK, with the best of any drier and warmer conditions in the south and east.
Temperatures are expected to be close to the average for the time of year, with highs ranging between 18C in northern parts of the UK and 23C in the south.
The enhanced content on this page requires Javascript and Flash Player 9
Map Key
Land
Cloud
Lakes, Rivers & Sea
Fog
Light
Heavy
Frost
Light
Heavy
Pressure Fronts
Cold
Warm
Occluded
Rain
Light
Heavy
Extreme
Snow
Light
Heavy
Temperature tab only
Temperature (°C)
More details from BBC Weather