BBC correspondent Jon Leyne dies at 55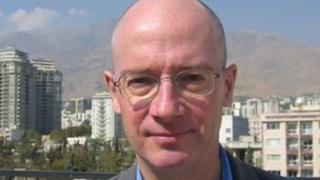 BBC foreign correspondent Jon Leyne has died in London at the age of 55.
One of the BBC's most experienced journalists, Leyne covered wars and unrest in many regions over the past three decades.
He joined the BBC in 1985, and worked as UN correspondent in the early 1990s before serving around Europe and the Middle East, as well as in Washington.
In recent years, Leyne covered the Libyan uprising against Col Muammar Gaddafi and the Egyptian revolution.
Acting Director BBC News Fran Unsworth said: "Jon was a brave and courageous journalist in the best traditions of the BBC. He had an insatiable curiosity and told complex stories in an engaging and accessible way."
Iran posting
In 2001, Leyne was US state department correspondent and close to the Pentagon when the building was attacked from the air on 11 September.
In the following years he travelled the world covering the journeys of then-Secretary of State Colin Powell.
Leyne was appointed correspondent in Jordan and covered the 2006 conflict between Israel and Lebanese militant group Hezbollah.
While working in Iran during the 2009 elections, he was asked to leave within 24 hours by the Tehran authorities who accused Britain and the BBC of meddling in internal affairs.
Earlier this year, he ended his Cairo posting early after suffering from severe headaches.
He returned to Britain for treatment and was diagnosed with an incurable brain tumour.