Weather warning as thunderstorms hit parts of UK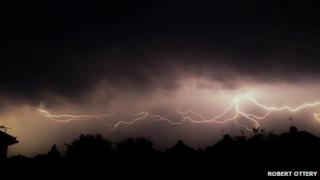 There has been heavy rain in parts of the country and an amber weather warning has been issued for the north-east of England on Sunday morning.
Stowe in Buckinghamshire received 14mm of rain in an hour as thunderstorms moved in to southern, eastern and central areas of England on Saturday.
The Met office said there would be some "torrential rainfall" in north-east England on Sunday morning.
The warning puts people on standby for possible travel disruption.
There is also a risk of surface flooding.
The amber rain alert is the second of three levels, meaning "be prepared".
The Environment Agency has also issued 23 flood alerts for the north-east, with eight in the Midlands and one in the Anglian region.
BBC Weather forecaster Laura Gilchrist said Saturday's storm will move north, leaving the south of the UK with sunshine and scattered showers on Sunday.
The storms started in France, pushing push northwards through the English Channel on Saturday morning. There was some thunder and lightning across parts of Kent but the area of cloud missed most of the country.
Despite the rain, temperatures will remain warm for most of the country with a high of 24C (75.2F) expected in central and eastern England on Sunday afternoon.
Glasgow and Ayrshire in Scotland, and Antrim and Down in Northern Ireland faced flooding on Thursday.
The Scottish Fire and Rescue Service was called to flash floods around the country and a fire in a block of flats in Greenock, thought to have been caused by a lightning strike.
July has seen the longest spell of hot weather to affect the whole of the UK since July 2006 as temperatures exceeded 28C somewhere in the country for 19 consecutive days.
The highest temperature for seven years - 33.5C - was recorded in west London earlier this month.