Police forced retirement regulation A19 'not unlawful'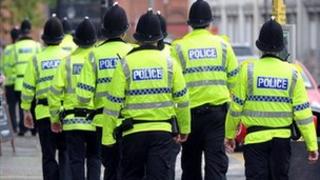 A regulation allowing police forces to forcibly retire officers after 30 years' service is not unlawful, the High Court has ruled.
The Police Superintendents' Association for England and Wales (PSAEW) argued that the retiring of older officers would not result in major savings.
Hundreds of officers have been retired using regulation A19 after budgets were cut by 20% over five years.
The PSAEW said it was too early to say whether it would contest the decision.
It had sought the judicial review after the enforced retirement of three of its members employed by Bedfordshire Police.
The assistant chief officer of Bedfordshire Police, Vince Hislop, said although the court had ruled in the force's favour "it would be wrong to comment" while the PSAEW had yet to decide whether to appeal the decision.
Hundreds of officers have been made to retire under regulation A19.
The regulation means regular police officers, other than a chief officer of police, deputy chief constable or assistant chief constable can be required to retire after 30 years' service "in the general interests of efficiency".
An employment tribunal in London has also been hearing five test cases brought by the PSAEW involving police forces in Nottinghamshire, West Midlands, Devon and Cornwall, North Wales and South Wales who are accused of age discrimination.
The test cases are on behalf of a further 250 officers who have been forced to retire and the officers involved are seeking compensation for unfair dismissal. It is understood some may also ask to be reinstated.
The tribunal can now proceed after it was adjourned pending the outcome of the High Court judicial review.
PSAEW national secretary Graham Cassidy told the BBC it was too early to say whether it would appeal the decision made by the High Court sitting in Manchester.
"This is the first judicial review that we have ever taken out," he said.
"We were confident we had a good case, so it's disappointing we haven't succeeded."
The government said in October 2010 it was to cut police funds following a spending review.