More than half of motorists 'not taking regular breaks'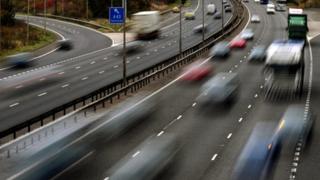 More than half of drivers do not take regular rest breaks, a survey for road safety charity Brake and insurance company Direct Line suggests.
According to the poll, 55% of drivers do not follow guidance to take rest breaks every two hours on a long trip.
Also, 35% of the 1,000 drivers polled said they often continued a journey despite feeling sleepy.
Brake is calling for more rest areas for drivers and government advertising to highlight the issue.
The survey comes as families prepare for drives to summer holiday destinations across the UK and Europe.
It also found that 14% of male drivers had driven for six hours or more without stopping, compared with 3% of female drivers.
At the moment there is no maximum driving time for motorists, although HGV drivers must take a break every four-and-a half hours, in adherence with EU and UK rules.
Brake deputy chief executive Julie Townsend said many drivers were "scarily confident" of their ability to safely drive for long distances without a break.
She added "In reality, regular breaks are essential for staying alert and awake, as is getting plenty of sleep the night before.
Sleepiness can catch you unawares at the wheel and it only takes a couple of seconds on a motorway to cause absolute carnage. "
The RAC Foundation said fatigue is reported as a factor in just 2% of accidents but it estimates the real figure is closer to 20%.
Its director Professor Stephen Glaister said: "Tiredness-related crashes tend to be more severe as drivers are unable to take evasive action."
A survey earlier this year by LV car insurance found that almost one in 10 drivers admitted to having "nodded off" at the wheel.