HS2 challenge rejected by Court of Appeal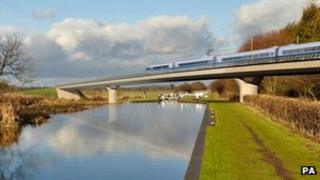 The latest legal challenge to the HS2 high-speed rail project has been rejected by the Court of Appeal.
Objectors including residents' groups and 15 councils along the route had asked judges to order a further assessment of the scheme as a whole.
Judges dismissed all seven grounds of challenge against the London-Birmingham section of HS2, but a final appeal to the Supreme Court will be allowed.
A minister urged opponents not to "waste" taxpayers' money on litigation.
Transport minister Simon Burns said: "By dismissing all seven grounds of appeal and declining to refer the case to Europe, this is the second time in four months a court has rejected attempts to derail HS2.
"Parliament is the right place to debate the merits of HS2, not the law courts, and we will introduce the hybrid bill for phase one before the year is out."
Mr Burns said the government would continue with the "crucial business" of getting HS2 ready for construction in 2017.
The project, currently expected to cost £42.6bn, is intended to allow trains to run at 250 mph (400km/h) from London to Birmingham from 2026, with branches to Manchester and Leeds - via Sheffield - planned by 2032.
The objectors said the scheme would cause an unacceptable level of environmental damage, loss of homes and disruption to many communities and have confirmed to the BBC they will take their case to the Supreme Court.
The Court of Appeal said the objectors could bring the further appeal on the grounds of whether the scheme was subject to two EU directives requiring the government to assess the impact of both HS2 and its alternatives.
'Riding roughshod'
David Elvin QC, for HS2 Action Alliance, told the Court of Appeal the project had already blighted properties along the route and argued it had been given the go-ahead in breach of the regulations requiring a full strategic environmental assessment (SEA).
Councillor Martin Tett, chairman of the 51m Alliance, which opposes HS2, said he was "disappointed" with the court's decision but encouraged that one of the three judges disagreed with the others on the SEA issue.
"Lord Justice Sullivan gives a very strong steer that HS2 Ltd has failed both in its obligation to fully assess the environmental implications of the project and vitally to assess these against the alternative we have put forward," said Mr Tett, who is also leader of Buckinghamshire County Council.
Mr Tett added: "This is another example of the Department for Transport and HS2 Ltd riding roughshod over public opinion, ploughing ahead regardless of what local communities want and ignoring the environmental merits of the alternatives."
London's Camden Council says it represents the most affected area along the entire HS2 route and fears a "decade of blight".
The 51m Alliance's proposed alternative to HS2 includes improvements to the West Coast Mainline and adding carriages to trains on existing lines to increase capacity.