Royal baby: Crowds gather at palace to celebrate birth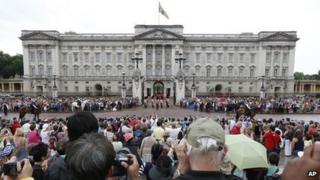 In some ways it was business as usual outside Buckingham Palace as hundreds of tourists gathered to enjoy the pomp of the Changing the Guard.
But the Bandsmen of the Scots Guards' rendition of Cliff Richard's Congratulations, and the subsequent applause, gave a hint of the historic event - the birth of the third-in-line to the throne.
Hundreds of people gathered at the gates of the palace - smartphones and cameras aloft - for a glimpse of the bulletin announcing the news, which was displayed on an easel.
There was a feeling from many among the crowd that the Duke and Duchess of Cambridge represented the modern face of a newly-revitalised Royal Family.
"I care more about them now than 20 years ago, with Kate and William - and after Diana," Adam Holtham, 30, from Oxfordshire, said. "They've just moved up a gear."
His wife, Robyn, 41, fresh from trying to capture her own picture, said the royals had become more accessible to the younger generation.
"People can identify with them. Kate is a more normal person. With Harry too - they're just people who like to have fun and do normal things," she said.
And it seems that, despite the huge public attention and their privileged position, the Cambridges will be facing the same challenges as any new parent.
"I hope they get some sleep. I was there just a few years ago," Mr Holtham added.
Nancy Jameson, 78, from Pennsylvania in the US, has three children, seven grandchildren and great-grandchildren, so knows a little of what the family might be feeling.
"Congratulations, and just love the baby," was her message to the couple.
On a stiflingly-hot day in central London, police officers marshalling the crowds were also posing for photographs and giving directions.
One officer, upon a horse, warned the crowd to mind their possessions - and their children - in English, French and German, reflecting the international composition of the crowd.
Florian Collon, 21, an English student from near Paris and his sister, Sarah, 23, posed for a picture clutching front pages of Tuesday's newspapers.
"It's really good news for England and the Royal Family, one of the most ancient royal families in the world. It's happy news for all of the world," he said.
This was a sentiment shared by Chang Jing, 40, an English teacher who was in the UK on holiday from China.
"Nowhere in the world do people have the belief like the British people do with their Queen," she said.
"Even in China this will be in the news. A new life is always so encouraging," she added.
The significance of this aspect of British life was echoed by Paula and Tim Dunn, on holiday from Cleveland, Ohio.
"We can't believe we're here on this special day," Mrs Dunn said. "It's so different to anything we experience in the US but it's just part of everyday life for the British."
"We just have politicos who we don't respect," her husband added.
But the young couple's popularity is also a reflection of people's engagement with their romance, Mrs Dunn said.
"Princess Diana was so loved and to see the love between Kate and William that is so strong, people are excited to see it," she added.
Amongst the buzz of accents from overseas were a few British stalwarts. Michael Moore, 78, from Wimbledon in south-west London has been attending royal events for years.
"It's another reason to celebrate," he says. "The Royal Family and these events unite us, they bring every creed and colour together."
And Hannah Taylor, 26, had popped down on her lunch break to see the easel - so she could report to her future grandchildren that she had been there.
"Prince Harry needs to get married to me now," she said.
Perhaps unsurprisingly, there were no dissenting voices to be heard outside the palace, even when the skies opened and people scrabbled to put up umbrellas or don waterproofs.
Then, after the guard had completed its daily ritual, the remaining crowds hoping to see the easel were marshalled into a line and given a taste of another great British tradition - queuing.