UK heatwave: Storms follow hottest day for years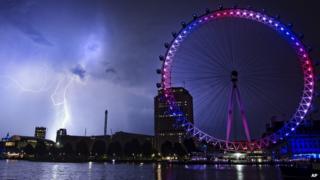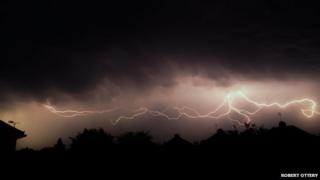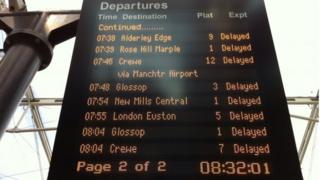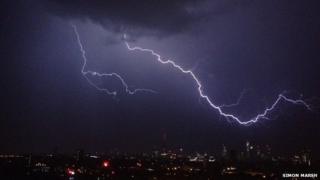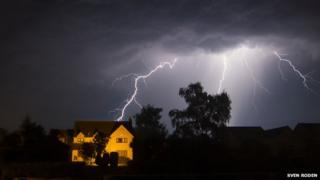 Violent storms have hit the UK, with forecasters warning of more "widespread and energetic" thunderstorms and possible flooding.
The Met Office warning for many parts of England and Scotland comes after a three-week heatwave.
Temperatures peaked in London on Monday at 33.5C and will remain above average.
Lightning strikes have caused severe disruption to train services and a plane made an emergency landing at Glasgow Prestwick after it was struck.
The Ryanair flight to Alicante was struck shortly after it took off from Edinburgh at about 18:15 BST.
It was inspected by engineers and took off for Alicante after being given the all-clear.
The Met Office has issued a yellow warning for the public to "be aware" of rain and says "thunderstorms continue to move north across the bulk of England - except the south-west - and Scotland with some very energetic storms producing frequent lightning".
A further yellow warning for rain is in place for Wednesday, affecting eastern parts of England and Scotland, in particular the north-east of the country.
The Met Office warned that surface water flooding could cause localised travel disruption.
The Environment Agency has issued five flood warnings in England and Wales, meaning "flooding is expected, immediate action required", as well as 15 flood alerts, meaning "flooding is possible, be prepared".
Meanwhile, a "level three" heatwave warning is in place in London, and south-east and east England until 09:00 BST on Wednesday.
Heatwave warnings alert healthcare services to help those in high-risk groups such as the elderly and young children.
Level three alerts are triggered when threshold temperatures have been reached for one day and the following night, and the forecast for the next day has a greater than 90% confidence level that the day threshold temperature will again be met.
Daytime threshold temperatures for the three areas range from 30C-32C.
Trains cancelled
Train services in parts of the UK were badly affected after a series of lightning strikes on signalling systems.
There were no trains running between Edinburgh and Berwick-upon-Tweed, with all trains in and out of Manchester's main Piccadilly station also cancelled.
A lightning strike at Manningtree in Essex caused severe disruption to trains in the East Anglia area and disruption to trains in and out of Coventry, Birmingham International and Birmingham New Street stations.
'Almighty bang'
A woman from Birches Head in Stoke-on-Trent was taken to hospital after being hurt when lightning caused the ceiling in her home to collapse on top of her.
In Sutton-in-Ashfield, Nottinghamshire, several properties were damaged by lightning and a car was set alight.
Denise Walton, who lives on Stuart Street, where a house was struck, said: "I heard an almighty bang and a flash, the whole street seemed to light up.
"Then I looked through the window and I could see smoke coming into the sky, I didn't know where it was coming from.
"Within 10 minutes the fire brigade was here and then all hell let loose. It was frightening. Shocking, actually."
In other incidents:
In Wiltshire, firefighters tackled a blaze in the roof of a house on Stonehenge Road in Durrington. Wiltshire Fire and Rescue said they received "many" lightning-related calls overnight
In Lincolnshire, eight fire engines with around 50 firefighters attended a fire at a farm on Elsthorpe Road, Stainfield
In Kent, a home in Lympne caught fire after a lightning strike. A property in Gillingham was also struck. Fire crews also had to pump water from house in Sandgate, which was flooded by heavy rainfall
A church was struck by lightning in Greater Manchester which sent stonework crashing through the church roof and into the school playground next door
In Market Bosworth, Leicestershire, 2.1cm of rain fell in less than an hour, the BBC Weather Centre said
Stansted Airport in Essex suffered a power cut overnight causing passenger information services and screens to fail. Normal service resumed on Tuesday
Lighting also affected power supplies, with about 6,500 properties cut off in Gloucestershire overnight. About 1,600 homes in the Bath and Bristol areas also had power supply problems and in Wickford, Essex, 3,000 homes were affected.