Fishing trip Britons killed in Russia helicopter crash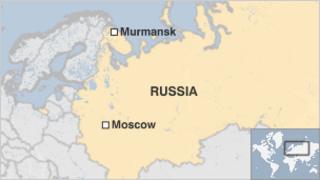 Two British men in their 60s have died in a helicopter crash while on a fishing trip in northern Russia.
On arrival, rescuers were told the pair had just been dropped off when the aircraft tried to take off again, but tipped onto its side and killed them.
The incident happened in the far northern Kola peninsula - an area which attracts wealthy tourists drawn to its salmon-rich waters.
A Foreign Office spokesman said it was ready to provide assistance.
A Russian interpreter with the two fishermen was also killed but the pilot of the French-built Eurocopter EC-120 survived.
The Rynda river, where news agency AFP said the crash happened, is in the Murmansk region.
"We are aware of reports of the deaths of two British nationals in Russia," a Foreign Office spokesman said.
"We are in touch with the local authorities and stand ready to provide consular assistance."
A spokesman for manufacturers Eurocopter said: "We are awaiting more information from Russia and are ready to give any support that is needed."
One Russian news agency quoted a security source who said the men were staying in a "luxury camp for fishing".