Mel Smith dies of heart attack aged 60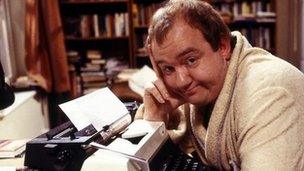 Comic actor and writer Mel Smith has died of a heart attack, aged 60, his agent has confirmed.
The British comedian - known for the sketch shows Alas Smith and Jones and Not The Nine O'Clock News - died at his home on Friday, Michael Foster said.
Smith formed a lasting partnership with co-performer Griff Rhys Jones with whom he set up the independent television company, Talkback Productions.
Rhys Jones described his friend of 35 years as a "brilliant actor".
In a statement on behalf of his wife, Pam, Mr Foster said: "Mel Smith, comedian and writer, died on Friday aged 60, from a heart attack at his home in north-west London."
An ambulance was called to Smith's home just after 09:00 BST where he was found to have died.
'A gentleman and a scholar'
Meanwhile, friends and colleagues have paid tribute to him.
"I still can't believe this has happened," said Rhys Jones.
"To everybody who ever met him, Mel was a force for life. He had a relish for it that seemed utterly inexhaustible."
He said the pair had never had an argument and "loved performing together", adding: "He inspired love and utter loyalty and he gave it in return. I will look back on the days working with him as some of the funniest times that I have ever spent."
He went on to describe Smith as a "gentleman and a scholar, a gambler and a wit".
The pair met, along with Rowan Atkinson and Pamela Stephenson, working on Not the Nine O'Clock News, which ran from 1979 to 1982.
The programme's creator, John Lloyd, told the BBC his friend had been ill for some time.
He said: "Mel did an extraordinary thing - he taught us all how to make comedy natural. He was a brilliant theatre director... Not only was he a great actor, he was a wonderful editor."
Smith and Rhys Jones together created Talkback Productions, which made a number of much-loved comedies - among them Da Ali G Show, I'm Alan Partridge and Never Mind the Buzzcocks.
"What that did is produce a gigantic raft of new material," Mr Lloyd said. "That, I think, is a contribution that will never go away."
They sold the company for £62m in 2000.
Their business partner and agent at Talkback, ITV director of television Peter Fincham, said Smith had "extraordinary natural talent".
"Life was always exciting around Mel," he said. "Being funny came naturally to him, so much so that he never seemed to give it a second thought.
"Mel and Griff were one of the great comedy acts and it's hard to imagine that one of them is no longer with us."
Atkinson, who starred in Bean - The Ultimate Disaster Movie, directed by Smith in 1997, paid tribute to a "lovely man of whom I saw too little in his later years".
"He had a wonderfully generous and sympathetic presence both on and off screen," he said.
Other friends and colleagues took to Twitter to send their condolences, with comedian and broadcaster Stephen Fry writing: "Terrible news about my old friend Mel Smith, dead today from a heart attack. Mel lived a full life, but was kind, funny and wonderful to know."