British drug case trio return home after Dubai pardon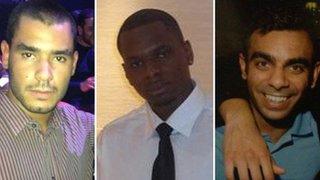 Three British men jailed for four years each for drug offences in Dubai earlier this year have returned home after being pardoned, legal rights charity Reprieve has said.
Londoners Suneet Jeerh, Grant Cameron and Karl Williams were found guilty of possessing synthetic cannabis in April.
They claimed they were tortured by police following their arrest while on holiday in the Gulf state last July.
The three men denied the charges, and were pardoned in a Ramadan amnesty.
The men, all in their 20s, were arrested after police said they found a quantity of a drug known as "spice", a synthetic product which mimics the effects of cannabis, in their car.
They say they were subjected to torture by police - both in the desert, where they were initially taken after their arrest, and subsequently in hotel rooms - including with beatings and electric shocks.
Reprieve investigator Kate Higham said: "The release of Grant, Karl and Suneet is welcome, but long overdue.
"They were treated appallingly by Dubai police, who still have serious questions to answer.
"We are glad that they are all now safely back in the UK, but the UAE's terrible record on torture must not be forgotten."
Prime Minister David Cameron raised the case with UAE President Sheikh Khalifa bin Zayed during his state visit to the UK earlier this year.
Police in Dubai have denied any wrongdoing and say an internal investigation into the torture allegations found no evidence to support the claims.