Syria crisis: Outgoing UK defence chief warns over military action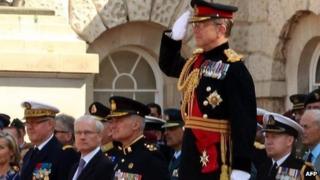 The outgoing head of the armed forces, General Sir David Richards, has given a blunt assessment over any military action in Syria, on the day his role officially passed to his successor.
A lack of international consensus and splintered rebel forces would make a military solution difficult, he said.
General Sir Nicholas Houghton is the new chief of the defence staff.
Meanwhile, Defence Secretary Philip Hammond said no options were being taken off the table in regard to Syria.
Sir David's role as the prime minister's main military adviser passed to Sir Nicholas at a Horse Guards Parade ceremony on Thursday morning.
Sir David described the situation in Syria as a "huge humanitarian tragedy" and said the priority was to contain the situation better, adding that if military action were contemplated "the UK won't do anything by itself - it will act with allies, in particular with the USA".
He said the UK had made contingency plans to intervene if chemical and biological weapons in Syria were in danger of falling into the hands of al-Qaeda.
Mr Hammond, who paid tribute to Sir David at the ceremony, said: "I think it's very unlikely that we would see boots on the ground, but we must never take any of the options off the table.
"The military role, and the Ministry of Defence role, is to plan for contingencies."
'In debt'
Sir David, 61, is handing over as chief of the defence staff after a military career in the Army spanning more than 40 years.
He was commissioned into the Royal Artillery in 1971 and served in Northern Ireland, Germany, East Timor, Sierra Leone and Afghanistan, where his role as head of Nato's International Security and Assistance Force made him the first British general to command American troops since World War II.
Speaking at the parade, he thanked members of the armed forces as representatives from all three services marched in the blazing sunshine.
The outgoing chief made clear he was all too aware of the sacrifices made by those who served and their families.
"I am in the debt of those who have fought and sometimes died," he said.
"And to quote Isaac Newton: if I have seen farther, it is by standing on the shoulders of giants."
Sir David also spoke of the challenges for his successor, from counter-terrorism to cyber warfare, as well as the situation in the Middle East.
"There is lots for him to do," he said.
"He's a fantastic bloke.
"And then there's money - you've got to make sure it all adds up.
"But I'm content that I leave the armed forces in much better shape than we thought might be the case even a year ago."
One of the toughest tasks during his tenure was helping to reshape the armed forces after the defence review of 2010 cut many thousands of jobs, as well as financial allowances - denting military morale at home and leading to an outflow of many talented personnel at a time the forces were still heavily engaged in Helmand, Afghanistan.
The new chief of the defence staff faces many of the same challenges, with another round of redundancies continuing to feed through for the Army and an ambitious programme of reform aimed at giving reservists a greater role as regular numbers reduce.
'Truth unto power'
Sir Nicholas was in charge of the reserves review as the vice-chief of the defence staff, so has a personal stake in seeing those plans succeed.
He will also have to balance means and ends - the UK's armed forces may be getting smaller but there is little sign of any reduction in Britain's wish to play a major role on the global stage.
"I hope that we can give to government wise counsel about the utility of our armed forces - not making recommendations of what is right and wrong in a policy sense, but to give them options so that they can make the right decisions about which options to take," he said.
Sir Nicholas is a former Green Howard who served in Northern Ireland and as a senior commander in Iraq.
"Inevitably, when a Yorkshireman takes over from a Welshman, there probably won't be as much singing, but significantly less volume," he said.
So will he be as outspoken as his predecessor?
"What I will continue to do, which is what David always did, is do no more than his duty and speak truth unto power."