Rupert Murdoch rows back on police inquiry criticism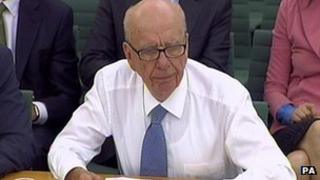 Rupert Murdoch has rowed back from claims that the police inquiry into alleged corrupt payments by journalists to officials is "totally incompetent".
But in letters to two MPs, the News Corp chief said that the police response had been "disproportionate".
Mr Murdoch said that while he did not "doubt the police's professionalism", the inquiry had taken too long.
He admitted to making "overly-emotional comments" in a secretly-recorded meeting broadcast on Channel 4 News.
The letters came after MPs demanded that he explain comments made at a Sun staff meeting.
A recording of the meeting held in March was obtained by the Exaro website and aired on Channel 4 News earlier this month.
In it, Mr Murdoch complained about "totally incompetent" police officers and said the Metropolitan Police's Operation Elveden was "the biggest inquiry ever, over next to nothing".
'Sense of proportion'
In a letter sent on Wednesday night to John Whittingdale, chairman of the Culture, Media and Sport select committee, Mr Murdoch said: "Even without a reliable transcript before me, I am sure I made overly emotional comments about the MPS [Metropolitan Police Service] at the March meeting."
Mr Murdoch gave evidence to the committee in 2011 when he was questioned about phone-hacking allegations.
He added: "I do not doubt the police's professionalism but, from my layman's perspective, the police approach to these matters since I met with you has in some respects appeared to be disproportionate."
And in a letter to chairman of the Home Affairs Select Committee, Keith Vaz, Mr Murdoch wrote: "I accept that I used the wrong adjectives to voice my frustration over the course of the police investigation.
"But I had been hearing for months about pre-dawn raids undertaken by as many as 14 police officers, and that some employees and their families were left in limbo for as much as a year-and-a-half between arrest and charging decisions."
He added: "I am in no position to judge the competence of the investigation and should never have done so.
"But I do question whether, over the last two years, the police have approached these matters with an appropriate sense of proportion, and with regard for the human cost of delay.
"My own lay view is that it has been more than thorough, indeed it has in some respects appeared to be excessive."
The letters claim that News Corp has handed over more than 500,000 documents to the Metropolitan Police, devoting more than 185,000 man hours to the work.
Mr Vaz told the BBC it was once felt that the police investigation, which is expected to cost a total of £40m, "was not thorough enough".
He added Mr Murdoch "has responded fully to the select committee in a three-page letter with a lot of detail and he's made it very clear that the words he used about police were wrong.
"He's also made it very clear that he needs to co-operate and his company needs to co-operate with police."
'Damage limitation'
Meanwhile, Labour MP Tom Watson, a member of the Culture, Media and Sport select committee, said the letters appeared to be a "damage-limitation exercise" written by lawyers.
"It is very difficult to know what the real Rupert Murdoch is up to," he told Channel 4 News.
Allegations of phone hacking at the now-defunct News of the World thrust the newspaper's owners, News Corp, and its journalists directly into the spotlight.
A separate Scotland Yard investigation, named Operation Elveden, is looking into claims of inappropriate payments made to police and other public officials by journalists.
News Corp defended Mr Murdoch when the secret recording emerged, saying he had shown "understandable empathy" with staff.