RAF crew shot down in WWII buried in Italian war cemetery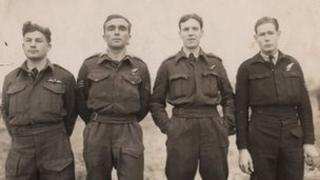 The crew of an RAF Boston bomber have been buried in a war cemetery in Italy, 68 years after their deaths.
The crew took off from Forli in northern Italy in the final days of World War II, but never returned and were thought to have been shot down.
The location of the remains of the three Britons and an Australian was unknown until an Italian team of amateur archaeologists discovered them near the city of Ferrara in 2011.
The burial had military honours.
Several dozen people attended the ceremony at Padua War Cemetery, including relatives of the men, some from as far away as New South Wales, Australia.
Representatives of the RAF, the Royal Australian Air Force, and the British embassy's navy and air attache were also present, as were those who excavated the crash site.
The plane's pilot, Sergeant David Raikes, from Redhill in Surrey, was 20 years old when he led the ill-fated mission to attack a bridge on the River Po.
Navigator Flight Sergeant David Millard Perkins, from Honor Oak in London, and wireless operator and air gunner Flight Sergeant Alexander Thomas Bostock, from Forest Row in Sussex, were both also 20.
Air gunner Warrant Officer John Penboss Hunt, from Shoalhaven in New South Wales, Australia, was 21.
During the ceremony, the nephew of Sgt Raikes, who was an aspiring poet, read out one of his poems and a band played the Last Post.
There were so few remains of the young crewmen, they were all contained in a single coffin draped in a union jack.
Sgt Raikes's brother Tim Raikes, 79, described him as "a big kind older brother" who was "fun-loving".
He said: "I've been waiting all these years and thought he would never be found. There are so many emotions, it was a joy to hear that his plane had been found."
Relatives of Flt Sgt Perkins were unable to attend the service, but the family of Warrant Officer Hunt travelled from the Shoalhaven region of New South Wales, Australia.
Glenice Hoffman, cousin to Flt Sgt Bostock, said it had been very difficult for his mother to cope with losing her son in the final few weeks of the war, when others were celebrating.
She said: "My memory is seeing the heartache that his mother was living through and did live through for the rest of her life.
"For me, being the only surviving relative, hearing so much about him all my life, it's a privilege and an honour to be here to bring some peace."
Personnel from the RAF's 18 Squadron, the unit the men served in, acted as pallbearers.
Wing Commander Lee Turner said: "It is a privilege to pay our respects to our colleagues and remember the ultimate sacrifice that the crew made for their country."
The aircraft was unearthed by Italian amateur archaeological society Archeologi dell'Aria, which searches for the remains of aircraft from World War II.
The day before the service, the families visited a museum in Felonica, to the south of Padua, which houses a display dedicated to the crashed Boston bomber.
Fabio Raimondi, who led the team that excavated the crash site, presented Warrant Officer Hunt's family with his watch, inscribed with his name and service number.
The ring of Flt Sgt Perkins, which had also been recovered, was to be returned to his family who had been unable not attend, officials said.