Sir John Thomas named as new Lord Chief Justice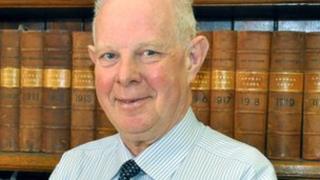 Sir John Thomas has been confirmed as the new Lord Chief Justice, replacing Lord Judge as head of the judiciary of England and Wales.
Sir John, currently president of the Queen's Bench Division, will take over the £240,000-a-year role in October..
The 65-year-old was involved in recent high-profile cases including those of Abu Hamza and Julian Assange.
After his appointment he pledged that judges would help ensure that justice was delivered "fairly and efficiently".
As well as leading the judges of England and Wales, he will also play a key role mediating between the courts and ministers.
Sir John was born in Carmarthen and brought up in Ystradgynlais, Powys. He was called to the bar in 1969 and was knighted when he became a High Court judge in 1996.
'Inevitable tension'
Some had predicted the job would be given to Lady Justice Hallett, who led the London bombings inquest and would have become the first woman in the role.
Also in the running, according to the BBC's legal correspondent Clive Coleman, was Lord Justice Leveson who led the recent inquiry into the ethics and practices of the press.
But Sir John was recommended by the Judicial Appointments Commission to Justice Secretary Chris Grayling, who then made the recommendation to the prime minister.
Our correspondent said Sir John was taking a "very important constitutional role" and one where he could clash with the government.
"The judiciary can scrutinise just about every area of government policy, so there is an inevitable tension between the two", he added.
The panel that chose Sir John included Lord Neuberger, President of the Supreme Court and, for the first time, a lay member of the public, Dame Valerie Strachan.
'Fair and efficient'
Sir John said it was a "privilege and honour" to take on the job and paid tribute to his predecessor Lord Judge who he said was "universally admired for his deep commitment to justice, the independence of the judiciary and the outstanding leadership he has given to all judges and magistrates".
"Although in a time of reduced resources significant change must continue, the judiciary will play its leading part in ensuring that justice is delivered fairly and efficiently," he added.
The Constitutional Reform Act 2005 made the Lord Chief Justice head of the judiciary of England and Wales, a role previously held by the Lord Chancellor.
The act means Sir John will take on about 400 statutory duties which include representing the views of the judiciary to Parliament, the deployment of judges and allocation of work in courts in England and Wales.