Cameron offers Burma more military co-operation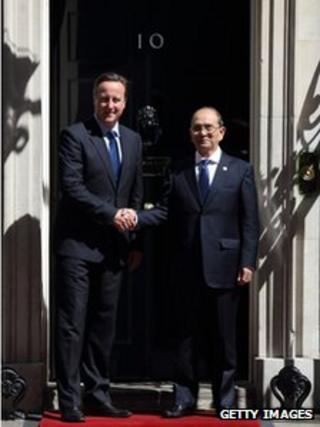 David Cameron offered increased military co-operation with Burma during a meeting with the country's president.
Mr Cameron spoke of "growing links in terms of our militaries" when he met Thein Sein at Downing Street.
But the prime minister also said he was "particularly concerned" treatment of Rohingya Muslims in Burma and called for greater action on human rights.
Protesters near Parliament say hundreds of Rohingya Muslims have been killed in recent sectarian violence in Burma.
They had set up gravestones bearing the words "RIP Rohingya" ahead of the meeting.
'Growing links'
More details of the proposed military co-operation are expected later, but the Daily Telegraph has reported that Britain will appoint a "defence attache" in Rangoon to "oversee the establishment of military to military contacts between the Burmese armed forces and their UK counterparts".
Greeting the Burmese president on his first visit to Britain, Mr Cameron raised the issue of sectarian violence which has left hundreds dead and thousands of Rohingya displaced.
Mr Cameron said he was "very keen to see greater action in terms of promoting human rights and dealing with regional conflicts".
He added: "We very much welcome the reform process you are undertaking in your country and look forward to free, fair and open elections in 2015.
"We believe there are many areas for Britain and your country to co-operate together, diplomatically, in terms of trade and investment, the aid and development relationship and also our growing links in terms of our militaries."
But Jamal Ahamed, general secretary of the Burmese Rohingya Organisation UK, said inviting Thein Sein meant Britain was supporting him "despite knowing all that is happening in the country".
An online petition set up by campaign group Avaaz, calling for an end to attacks on Rohingya people, has more than a million signatures.
The petition compares the situation to the 1994 genocide in Rwanda, and Avaaz executive director Ricken Patel said: "The ethnic cleansing attacks on the Rohingya and other Muslims should be ringing alarm bells everywhere.
"Prime Minister Cameron has a responsibility to use all his diplomatic leverage to get real, concrete measures from President Thein Sein to protect these groups.
"He has to put peoples' lives ahead of trade talks."
'Horrendous violence'
Amnesty International said Burma's Rohingya Muslims are "effectively stateless" and equal citizenship must be granted.
Clashes between Muslim and Buddhist communities in Rakhine state started in June 2012 and have continued since, Amnesty said.
The organisation's UK director Kate Allen said: "Hundreds have died, thousands are displaced and the security forces have failed to protect civilians and are themselves responsible for some horrendous acts of violence."
She added: "Thein Sein's dismal handling of the situation is unacceptable, and we fully expect to hear Cameron say so."
Thein Sein has introduced major reforms since the elections of November 2010, which saw military rule replaced with a military-backed civilian government.
After meeting Mr Cameron, he said Burma would release all political prisoners "by the end of the year".
Many political prisoners have already been freed and media restrictions have been relaxed in Burma, which is also known as Myanmar.
Aung San Suu Kyi's National League for Democracy - which boycotted the November 2010 polls - has rejoined the political process and now has a small presence in parliament.
Last year the EU lifted sanctions against Burma, but an arms embargo remains in place.
'Persecuted minority'
The United Nations describes the Rohingya, a religious and linguistic group from western Burma, as one of the most persecuted minorities in the world.
The Burmese government says they are relatively recent migrants from the Indian sub-continent, and so the country's constitution does not include them among indigenous groups qualifying for citizenship.
There is widespread hostility towards the Rohingya Muslims in Burma, which is largely Buddhist.
Neighbouring Bangladesh already hosts several hundred thousand refugees from Burma and says it cannot take any more.