PM pressed on election guru Lynton Crosby tobacco links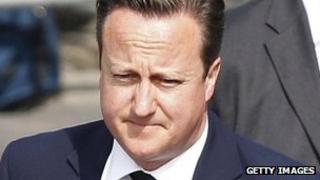 Shadow cabinet office minister Jon Trickett has written to David Cameron to ask about his election strategist's influence on tobacco policy.
He asked whether Lynton Crosby was involved in the government's decision to delay plans to introduce plain cigarette packaging in England.
It comes as the Times reports that Mr Crosby's company is employed in the UK by cigarette makers Philip Morris Ltd.
A Conservative source said Labour were pulling "a ridiculous stunt".
The source told the BBC: "Lynton Crosby is not a government appointment nor does he advise on government policy so there is no question of the PM having broken the ministerial code."
Mr Cameron has denied he was ever lobbied on tobacco policy by Mr Crosby.
He also insisted he was "unaware" of Australian-born Mr Crosby's role as a consultant to Philip Morris, the world's biggest tobacco company.
'Something to hide'
The Times said Mr Crosby's lobbying firm Crosby Textor (CTF) had been advising Philip Morris, whose brands include Marlboro, since November.
CTF was also employed by British American Tobacco in Australia, but the company said the lobbyists did not work on its campaign against plain packaging there.
In the letter, Labour's Mr Trickett asked Mr Cameron whether he would sack Mr Crosby if he refused to give up his "conflicting interests".
He also suggested if Mr Cameron did not give some clear answers on the matter, it would lead to a "growing perception" that the government had "something to hide".
In a second letter to Cabinet Secretary Jeremy Heywood, he asked whether Mr Crosby's reported commercial interests alongside his advisory role to the prime minister amounted to a breach of the ministerial code.
Liberal Democrat MPs have also questioned whether Mr Crosby should be allowed to continue his work for Number 10.
Former health minister Paul Burstow told the Observer: "Lynton Crosby cannot remain at the heart of government while he is also serving the interests of the tobacco industry.
"If he does not go, the prime minister should sack him."
'Join the dots'
Stephen Williams, who chairs the parliamentary group on smoking and health, said David Cameron needed to "examine his conscience" and part company with Mr Crosby.
"Lynton Crosby... had links to tobacco companies when he was in Australia and he is still part of a lobbying firm that has links to tobacco companies now that he is in UK," he said.
"It's quite easy to join up the dots."
Under the plain packaging proposals, the standardised packets would be the same colour, with the same font, and carry a prominent graphic warning.
The decision was said to have been delayed to allow more time to examine how similar plans have worked in Australia, where plain packaging was introduced last year.
Labour said the move was a "humiliating U-turn" but Conservative health minister Anna Soubry said she "would never give into pressure" and waiting for more evidence was "sensible".
The Scottish government says it will press ahead with its own plans to introduce plain packaging.
The Welsh government said it was "disappointed" by the delay and would consider "the way forward" while the Northern Ireland executive said it would like to see a "UK-wide" response to the issue.