England heatwave alerts issued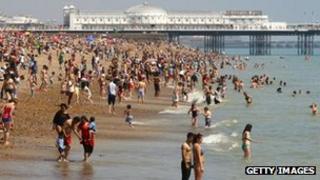 The Met Office has issued heatwave alerts for large parts of England, triggered by forecasts of up to 30C.
Yorkshire and the Humber has a 90% chance of a heatwave between noon on Friday and 20:00 BST on Sunday.
The East Midlands and southern areas have a 60% or 70% chance of a heatwave.
Officials are warning of "significant" health effects for specific vulnerable groups, with Public Health England advising them to stay out of the sun and drink cool fluids.
The warnings - the first of the summer - are designed to protect people, such as young children, the very old and those who are unwell, from the effects of hot weather.
The Heat-Health Watch system operates in England from 1 June to 15 September in association with the Department of Health.
There are four levels of response, based upon maximum daytime temperatures - ranging from 28C in North East England to 32C in London - and a minimum night-time temperature of 15C.
Yorkshire and the Humber has been placed in the "heatwave action" category, level three of four used.
East Midlands, East of England, Southeast England, London and Southwest England are also expected to be affected by high temperatures and are in the lesser "alert and readiness" category.
The West Midlands, North East and North West has been placed in the lowest warning category.
The "heatwave action" warning level "requires social and healthcare services to target specific actions at high-risk groups" .
No heatwave warnings have been issued by officials in Northern Ireland, Scotland or Wales.
The Met Office says the 29.9C reached at Edenfel, County Tyrone, on 8 July was the highest UK temperature of the year so far. But temperatures in Northern Ireland over the weekend are not expected to exceed 20C.
Temperatures in Scotland, which experienced its hottest day of the year on Tuesday with 28.7C recorded at Strahallan Airfield, will peak at 21C in Glasgow on Saturday.
Much of Wales is expected to see highs in the low 20s, but 28C is forecast for Cardiff on Saturday.
'Vigilance required'
Public Health England warns that it can get uncomfortably hot indoors too and advises people to keep living spaces cool by closing the curtains and opening windows at cooler times of the day and overnight.
They also advise turning off non-essential lights and electrical items as they generate heat.
Even if temperatures do not hit "extreme" levels, it advises people to keep safe in the sun, seek shade to cool down and keep hydrated with plenty of cool fluids.
Health and social care workers should regularly check on vulnerable patients, they said, to make sure room temperatures are set below 26C.
Patients should have access to cold water and ice.
Dr Angie Bone, from Public Health England's heatwave planning team, encouraged healthcare organisations, local authorities and health professionals working with vulnerable people to be particularly vigilant in the heat.
"While many people enjoy hot weather, high temperatures can be dangerous, especially for people who may be particularly vulnerable such as older people, young children and those with serious illnesses.
"The elderly and those with long-term illnesses are particularly vulnerable to the effects of very hot weather, so it's important to look out for them and keep indoor areas as cool as possible."