Food bank charity attributes growth in usage to welfare reforms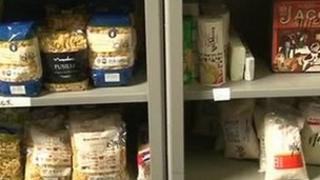 More people are turning to food banks since welfare reforms were introduced in April, a charity has said.
The Trussell Trust, which runs food banks, reported a 21% rise in the number of people who said they did not have enough money for food because of problems with benefits.
"A clear link" exists between the reforms and the increasing popularity of food banks, the Trust's boss said.
Conservative minister Lord Freud has said the two factors are unrelated.
The government says changes to benefits are necessary because of the rising cost of the welfare system and the need to cut the budget deficit.
A spokesperson for the Department for Work and Pensions (DWP) added: "Welfare reforms will improve the lives of some of the poorest families in our communities."
'Struggling'
But the trust's chief executive Chris Mould said: "The reality is that there is a clear link between benefit delays or changes and people turning to food banks, and the situation has got worse in the last three months."
He also argued that the changes had also caused confusion among welfare agencies that was affecting those in need.
"We've had people in crisis calling us saying that their local authority told them to ring the food bank for help with their gas and electric.
"Many of these issues must be addressed urgently, before universal credit is rolled out in October.
"This is not about politics; it's about recognising that we're living in a difficult economic climate where more people in poverty are struggling to cope and that we need to work together to find solutions so that the poorest and most vulnerable don't go hungry."
The Trussel Trust calculated that it had helped more than 150,000 people in the three months from April, which is the month when changes to the benefits system kicked in.
This represents an increase of 200% on the same three months last year.
It said that 52% of the people it had helped said they turned to food banks because of problems with benefits: an increase of 21% on the previous year.
'No evidence'
But the DWP spokesperson told the BBC: "The Trussell Trust itself says it is opening three new food banks every week, so it's not surprising more people are using them.
"They also agree that awareness has helped to explain their recent growth, and scare stories will only increase this.
"There is no evidence that links benefit delays to food bank use as the vast majority of benefits are paid on time and this has steadily improved over the past five years.
"The benefits system supports millions of people who are on low incomes or unemployed so no-one has to struggle to meet their basic needs, and our welfare reforms will improve the lives of some of the poorest families in our communities."
The Trussell Trust has compiled its data from most of the 374 food banks it runs around the UK.
The system operates on a referral basis: people cannot just turn up and ask for food; they must be referred by welfare agencies at which point they are eligible to receive a three-day ration.
Among the reforms that started in April are a cut in housing benefit for people living in houses deemed too big for their needs. It is expected to affect 660,000 people, costing them on average £14 a week and saving the taxpayer £490m.
A benefits cap has also been introduced, whereby people of working age will not receive more than the average earnings of a UK working household, even if they are entitled to a higher amount. Only around 40,000 people should be affected by this change, with a saving of £110m.
The single biggest saving should come from replacing the disability living allowance with a new benefit called the personal independence payment.
Around a 170,000 people could find themselves ineligible for any award by 2015, saving more than £2bn.
The universal credit - a single benefit designed to replace a raft of other entitlements - is also being introduced gradually across the country by October.
The government says three million households will be better off as a result of this.