Police use of dead children's identities 'justified'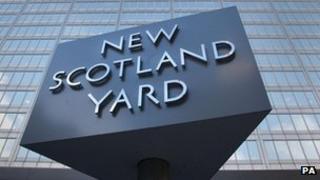 A former commander of the Metropolitan Police's Special Branch has said that the use of dead children's identities by the Special Demonstration Squad (SDS) "was justified".
Roger Pearce told BBC Radio 4 that undercover officers used the names of dead children "for protection of national security".
But he admitted that it was "distasteful in many ways".
MPs have called the practice "ghoulish" and said police should apologise.
An inquiry into undercover policing at the Met is investigating the use of children's identities.
Now a novelist, Roger Pearce was commander of Special Branch between 1999 and 2003.
It was his job to sign off almost every undercover operation carried out by the SDS during that time.
'False life'
"The objective was to gather secret political intelligence. Many in the Met as a whole wouldn't have known about it and even within the branch it was kept very, very secret for 40 years," Mr Pearce told Radio 4's The Report.
One thing SDS officers did before going undercover was decide on a new name. They often adopted the identities of dead children because they needed a real persona so they could apply for documents like a driving licence and National Insurance card.
Earlier this year, the Guardian reported that undercover police stole the identities of about 80 children who had died at an early age.
"If you were inviting people to lead a false life, they had to have a true identity. They had to be able to feel secure throughout the deployment, that their identity and legend would stand scrutiny," said Mr Pearce.
"At that time, before the digital age and before identities could be made up, this was the only way of finding a true alias - by going through recorded documents at St Catherine's House [where birth and deaths records were kept] and making the choice from that," he explained.
Officers did find this technique distasteful, he said. "People felt very awkward about doing it. People thought of the parents of the children who had died. But against that was the sense of mission and work for the country."
But he said that "on balance, distasteful in many ways though it was, set against the sense of mission and the sense that this was done for protection of national security, I believe it was justified".
Women suing police
In an interim report on undercover policing earlier this year, the Commons Home Affairs Select Committee said it was a "ghoulish and disrespectful" practice.
"The families who have been affected by this deserve an explanation and a full and unambiguous apology from the forces concerned," said MPs.
The SDS squad was small - only around a dozen officers going deep undercover at any one time, sometimes for up to 10 years to infiltrate groups picked out as subversive. It was disbanded in 2008.
"Most had families who had to also bear this other life they were leading at strange times of the week - weekends and evenings - so it was tough for the officers and tough for their families too. But I think what drove them on to do it was that it was seen as the pinnacle of their careers," Mr Pearce said.
Twelve women are suing the Met Police for emotional trauma claiming they had intimate relationships with undercover officers, believing they were having a relationship with a fellow activist.
The Operation Herne inquiry into undercover policing was launched in 2011 after it became known that former PC Mark Kennedy had spied on environmental protesters and had at least one sexual relationship with an activist.
Roger Pearce told the BBC there were no rules about whether undercover police could have sexual relationships with people they were infiltrating.
"Unpalatable as it is, the state... was inviting officers to live a false life for five or more years, to develop false friendships during that time and my point would be while you are living that kind of life, the false friendship can develop and escalate into a sexual relationship.
"So it's almost inevitable that these took place and I am making no moral judgements about them at all. It's the decision of the individual officer how he would conduct his time in the field."
The BBC asked Policing and Criminal Justice Minister Damian Green for an interview. He declined but said in a statement the rules for undercover work would get tougher.
"Undercover police operations are vital in the fight against terrorism and serious organised crime. However, covert powers must be used proportionately and only when necessary.
"Last month I announced law enforcement agencies will need to notify the Office of Surveillance Commissions at the outset of all undercover operations and get OSC approval for every deployment that lasts longer than 12 months."