Jim Davidson rebailed over sexual offence claims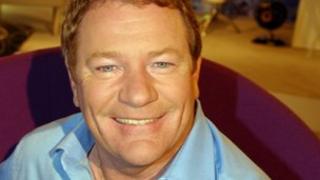 Comedian Jim Davidson has been rebailed until October over allegations of sexual offences, his solicitor says.
The 59-year-old answered police bail with a second man, aged 53, who was also rebailed.
Mr Davidson was first arrested in January by detectives from Operation Yewtree, which was set up after the Jimmy Savile scandal, but his arrest is not linked to the late BBC DJ.
His solicitor said he continued to "vigorously deny" the allegations.
Henri Brandman said his client had "helped the police as fully as possible in their inquiries".
"He has not, of course, been charged with any offence," he added.
Both men who were rebailed on Wednesday had been arrested as part of Operation Yewtree - the Met Police inquiry into historical allegations of sexual abuse linked to the entertainment industry.
The investigation was launched following revelations that Savile had sexually abused hundreds of young people and children over four decades.
With three strands, the operation encompasses investigations into the actions of Savile; allegations against "Savile and others"; and alleged complaints against other people unconnected to the Savile investigation.
Mr Davidson's arrest comes under the third category.