April Jones's killer Mark Bridger attacked in jail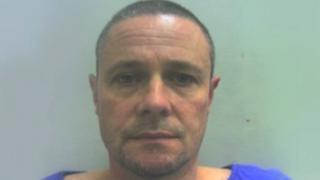 Mark Bridger, the man found guilty of abducting and murdering five-year-old April Jones in Powys, has been slashed in the throat by a fellow inmate.
The 47-year-old was attacked with a makeshift blade as he walked along a gangway at Wakefield Prison in West Yorkshire on Sunday.
Bridger was treated in hospital, where he required stitches.
His injuries are not thought to be life threatening and he was returned to prison on the same day.
April disappeared while playing near her home in Machynlleth, Powys, last October, sparking the biggest missing person search in UK police history.
But despite the fact that search experts, officers from 46 police forces and hundreds of members of the public scoured 650 areas near her home town, her body has never been found.
Bridger will spend his whole life in prison after he was found guilty of killing April in a sexually motivated attack.
He claimed he had accidentally run over April and could not recall where he had disposed of her body.
But a jury unanimously convicted him in a case lasting four-and-a-half weeks.