Job centres' work should be augmented by private firms, report says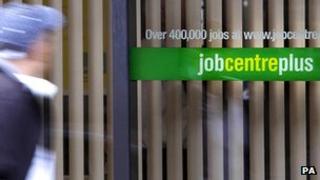 Companies and charities should be paid to help those looking for work as part of an overhaul of job centres, a think-tank close to the government has urged.
The Centre for Social Justice - established by Work and Pensions Secretary Iain Duncan Smith - said the current system was letting people down.
Its report pointed to an Australian model where private and voluntary organisations bid to do the work.
A government spokesman praised job centre advisers and managers.
The think-tank claimed Job Centre Plus focussed too much on arranging social security for those looking for work, instead of identifying the factors keeping it from them.
'Transform lives'
According to its report, 40% of those moving off jobseeker's allowance made another benefit claim within six months.
It called for local job centre managers to be given more flexibility in how much they pay staff to encourage the best advisers to stay on the frontline and not seek management positions.
CSJ director Christian Guy said the report revealed "deep-seated weaknesses" in Job Centre Plus.
"We need a radical new approach if we want to transform lives and tackle unemployment," he added, saying what he called the "state monopoly" on job centres should be broken.
The CSJ was set up by Iain Duncan Smith, the minister in charge of the government's welfare and job brokerage policies, in 2004.
However a spokesman for his department paid tribute to the work of job centre advisers and said managers were already given the flexibility to work with local voluntary organisations.
"It is encouraging that employment has risen by over 400,000 in the past year while the number of people claiming jobseeker's allowance has been falling for the last seven months," the DWP spokesman added.
The influential think-tank counts Foreign Secretary William Hague and former Labour home secretary David Blunkett amongst its supporters.