Bug found in Post Office row computer system
By Matt Prodger
Home affairs correspondent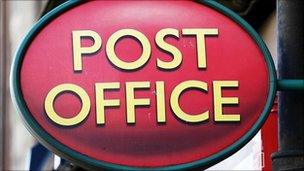 The Post Office has admitted that software defects have occurred with a computer system at the centre of a bitter dispute with some of its 11,500 sub-postmasters across the UK.
More than 100 say they were wrongly prosecuted or made to repay money after computers made non-existent shortfalls.
Some of them lost their homes as a result and a few went to prison.
The Post Office said the report showed its system was effective but said it would improve training and support.
Over the past year, independent investigators Second Sight, who were employed by the Post Office, have been examining a handful of the sub-postmasters' claims.
Although their review found no evidence of systemic problems with the core software, it did find bugs in it.
It pinpointed two specific occasions, in 2011 and 2012, when the Post Office identified defects itself which resulted in a shortfall of up to £9,000 at 76 branches.
The Post Office later made good those losses and the sub-postmasters were not held liable.
Sub-postmasters, who run the smaller post offices in the UK, are not directly employed by the Post Office but are contracted to run their branches as businesses.
They are responsible for balancing the books themselves, using the Post Office's Horizon computer system which processes all transactions.
A vocal minority of sub-postmasters have claimed for years that they were wrongly accused of theft after their Post Office computers apparently notified them of shortages that sometimes amounted to tens of thousands of pounds.
They were forced to pay in the missing amounts themselves, lost their contracts and in some cases went to jail.
Second Sight said the Post Office's initial investigation failed at first to identify the root cause of the problems.
The report says more help should have been given to sub-postmasters, who had no way of defending themselves.
And it concludes that further investigation is required.
More than 100 sub-postmasters have registered an interest in suing the Post Office over the prosecutions.
Jo Hamilton, who used to run a sub-post office from her village shop in South Warnborough, Hampshire, told BBC News things started to go wrong in 2005.
"I got to the end of one week and I was £2,000 short so I rang the helpdesk and they told me to do various things and then it said I was £4,000 short.
"They then said I had to pay them the £4,000 because that's what my contract says - that I would make good any losses.
"Then while I was repaying that it jumped up to £9,000."
Ms Hamilton said that, by the time the figure reached £36,000, she lied to the Post Office - wrongly telling them the books were balancing just so that she could open the office the next day.
As result of that, she pleaded guilty to false accounting.
She has been paying back the money ever since.
She says the sub-postmasters who have registered an interest in bringing a legal claim are "all really, really angry".
"We want justice for what has been awful. Some people have gone to prison.
"One gentleman had worked for the Royal Mail for 40 years and he ends up spending his 60th birthday in prison - you don't suddenly turn into a criminal at that age."
Post Office chief executive Paula Vennells said: "We commissioned this independent review to address concerns that have been raised about the Horizon system and we welcome the broad thrust of the interim findings."
She said: "The interim review makes clear that the Horizon computer system and its supporting processes function effectively across our network.
"As the review notes, it is used by around 68,000 people in more than 11,500 branches, successfully processing more than six million transactions every day.
"The review underlines our cause for confidence in the overall system."
She said the review raised questions about the training and support "offered to some sub-postmasters and we are determined to address these issues", adding that, "in many of these cases", improvements had already been made,
And she pledged to make "further improvements in this area and take better account of individual requirements and circumstances going forward".
The Post Office has proposed setting up a working group to investigate further.
It also suggested a review chaired by an independent figure to work out how an independent safety net might be introduced to adjudicate in disputed cases in the future.
Related Internet Links
The BBC is not responsible for the content of external sites.