UK pledges £10m to Lebanon after Syrian refugee influx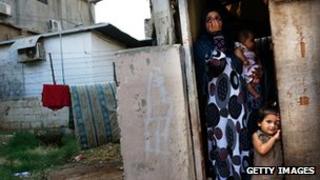 The government is to announce £10m in aid to Lebanon to help it cope with the influx of Syrian refugees.
In a sign the UK is re-assessing its approach to the refugee crisis, the aid will be spent on improving basic services and creating jobs.
This marks a shift in the UK's regional response, from emergency humanitarian relief to longer-term assistance.
The Department for International Development (Dfid) said the UK needed to go beyond "hand-to-mouth solutions".
No other country has taken in as many Syrian refugees as Lebanon.
Its population of just over four million has grown by almost 600,000 since the uprising against President Bashar al-Assad began in 2011.
Competing for services
Recently Lebanon appealed for help in dealing with such an increase in numbers.
British aid has mainly been provided in the form of emergency humanitarian relief - such as food, blankets and medical supplies - but Dfid will now channel funds into longer-term assistance as well.
A spokesman told the BBC: "We have to acknowledge that we can no longer just think about hand-to-mouth solutions. Some of this is about longer-term infrastructure."
The exact projects that will be funded by the UK donation have yet to be determined, but they could include equipping new schools, repairing water pipes and building toilet blocks, according to a government source.
Targeting money in this way is designed to help both Syrian refugees and their Lebanese hosts.
Unlike in Jordan, where many Syrian refugees live in large tent camps, in Lebanon most Syrians live in and among the Lebanese, in towns, cities and what the UN calls informal settlements.
Some have friends or family in Lebanon, with whom they are staying; others move into derelict or under-used buildings; still others live rough or in makeshift shelters.
They compete with their Lebanese hosts for basics such as food, shelter, water and electricity as well as services like education and healthcare, and in the job market.
G8 money
Recently, through the UN, Lebanon appealed for $450m (around £3m) to provide services, including education and healthcare, to refugees within its borders.
Secretary of State for International Development Justine Greening will announce the money on a visit to Beirut on Tuesday.
Some examples of how the money could be spent might include:
Improving community health care centres and providing psychological counselling services;
Upgrading school buildings, providing school books and uniforms and training teachers;
Paying for English and French lessons (languages that, apart from Arabic, are used in Lebanese schools) so Syrian children can learn alongside their Lebanese classmates.
Building new toilet blocks and repairing buildings occupied by refugees;
Funding job creation programmes for both Syrians and Lebanese, such as road building and repairs.
A spokesman for the Dfid insisted UK money would not be used for projects that would normally be the responsibility of Lebanese authorities, such as expanding the electricity grid or laying new water pipes; but it might be spent to provide generators or to repair water and sewage systems.
The £10m is part of a wider package of £50m being spent in Lebanon.
This itself is part of £175m of new money for Syrian refugees announced by the UK at the G8 summit in Northern Ireland in June. In total the UK has given around £348m for Syrian refugees.
With no political solution to Syria's crisis in sight, there is a growing realisation that the refugee crisis could turn into a long-term problem for neighbouring countries.
Even if the fighting inside Syria stopped tomorrow, the level of instability and destruction there mean it could be years before many Syrians could return home. And for Syria's neighbours, such as Lebanon, the human tidal wave looks set to continue.
Recently the UN's humanitarian chief Valerie Amos warned "by the end of the year, refugees could make up 20% of Lebanon's population".