Terror suspect benefits could be cut - Theresa May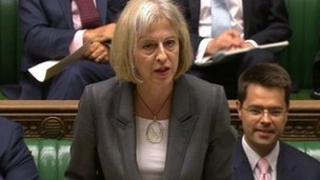 Ministers are to look at curtailing benefits for those suspected of terror offences, the home secretary has said.
Following the deportation of Abu Qatada, Theresa May told MPs the government would look at how to make it harder for the likes of the radical cleric to claim benefits.
She also did not rule out the UK's withdrawal from the European Convention on Human Rights.
Abu Qatada was deported on Sunday, following an eight-year legal battle.
The Palestinian-Jordanian had been wanted in Jordan over a plot to bomb American and Israeli tourists during Jordan's millennium celebrations.
His deportation was finally able to proceed after the UK and Jordan signed a treaty agreeing that evidence obtained through torture would not be used against him.
'Crazy interpretation'
Mrs May said lessons needed to be learnt from the case to ensure such a lengthy deportation process "never happens again".
As part of this, she said Work and Pensions Secretary Iain Duncan Smith would be investigating how to "curtail the benefit claims of terror suspects and extremists whose behaviour is not conducive to the public good".
She also said the government was looking at reforming the legal aid available to defendants.
The fight to deport Abu Qatada has cost British taxpayers over £1.7m. This includes £430,000 towards Abu Qatada's own legal fees.
Removing layers of the appeal process for foreign nationals facing deportation would also be looked at, Mrs May said, as would the "crazy interpretation" of human rights law by the European Court of Human Rights.
She accused the court of delaying Abu Qatada's deportation and "moving the goal posts" by establishing new legal grounds to block his deportation.
"I have made clear my views that in the end the Human Rights Act must be scrapped," she said.
'Dangerous man'
"We must also consider our relationship with the European court very carefully, and I believe that all options - including withdrawing from the convention altogether - should remain on the table.
"But those are issues that will have to remain until the general election."
Shadow home secretary Yvette Cooper said the deportation of Abu Qatada was a "good result for the country".
"He is a dangerous man whose values we in this Parliament condemn."
She said Labour would look at any government proposals on removing the available options for appeal for those facing deportation.
And she urged the home secretary to look at the reasons why cases at the European Court of Human Rights take so long, saying the court now faced a backlog of 150,000 cases.