Centrepoint charity warns of affordable housing 'crisis'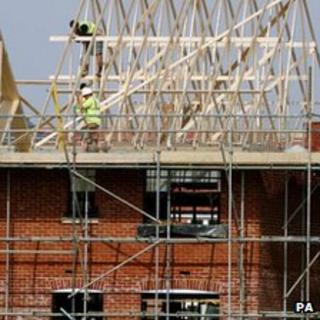 A shortage of affordable housing in England will hit "crisis" point by 2021 unless action is taken, a report for a youth homelessness charity suggests.
Centrepoint said 934,388 more properties at sub-market rents would be needed in England.
The University of Cambridge study looked at council, housing association and private rented sector units accessible with housing benefit.
The government says the building of new affordable homes is accelerating.
Centrepoint says the largest shortfall will be in London, with about 186,333 affordable homes needed, followed by the East Midlands with 132,587 and Yorkshire and Humber with 128,478.
The report says more homes should be built in the private and rented sector and better use made of existing stock.
Centrepoint, which only has hostels in England but campaigns on a national level, said the report focused on England because of the availability of data.
'Increasing anxiety'
Centrepoint chief executive Seyi Obakin said: "Local authorities must look at using powers they already have to tackle empty homes and engage further with the private sector, and nationally, government has to review its cuts to housing benefit rates, which has left private rented properties out of reach in many areas of the country."
He blamed benefit changes, a shortage of affordable homes and "increasing anxiety" amongst landlords over letting to young people on housing benefit.
The research said more than 137,500 properties were needed to meet demand from the under-25s.
It also examined the shortfall in homelessness provision for young people.
More hostels and other types of "supported accommodation" will be required by 2021 to house young people who become homeless, the report added.
Housing Minister Mark Prisk said: "We are building 170,000 new affordable homes for rent and affordable home ownership by 2015, and are planning to accelerate the building rate from next year."