Committee urged to recall Murdoch over secret tapes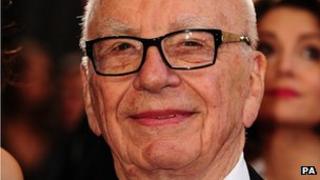 MPs are being urged to recall News Corp chief Rupert Murdoch to answer questions over secret tapes of him criticising a police corruption probe.
Campaign group Hacked Off says his comments cast doubt on the reliability of his evidence to the Culture and Media Select Committee two years ago.
News Corp said Mr Murdoch had been showing "empathy" to troubled staff when he was covertly recorded in March.
A committee spokesman said it was unlikely Mr Murdoch would be recalled.
In the recording obtained by the Exaro website, Mr Murdoch is heard addressing a group of Sun journalists - many of whom are under investigation.
He told them he regretted the level of his company's co-operation with the police over their investigation into alleged illegal payments to police and public officials.
He also complained about "totally incompetent" police officers.
News Corp said: "Rupert Murdoch has shown understandable empathy with the staff and families affected and will assume they are innocent until and unless proven guilty."
Of the police investigation, the News Corp spokesman said: "The unprecedented co-operation granted by News Corp was agreed unanimously by senior management and the board, and the MSC [News Corp management and standards committee] continues to co-operate under the supervision of the courts."
'Unrepentant tone'
Hacked Off associate director Evan Harris said there was a strong case that Mr Murdoch "may have committed contempt of Parliament" by misleading the committee over his true response to the police investigations.
In a letter to committee chairman John Whittingdale, he wrote that Mr Murdoch should be recalled "at the earliest available opportunity to explain the discrepancies between the expressions of remorse he made to you and the defiant and unrepentant tone of his private remarks earlier this year".
Dr Harris said he was writing on behalf of victims of past press abuse by News International, now renamed News UK.
He quoted Mr Murdoch at the 2011 MPs' committee hearing, saying that appearing before them was "the most humble day of my life".
He also recalled how Mr Murdoch had insisted he was not responsible for what he called "sickening and horrible invasions of privacy".
"Yet it now emerges... Mr Murdoch has since raged against the police and claimed that the inquiry has been blown out of proportion," Dr Harris added.
Phone-hacking victim Jane Winter said the tape showed Mr Murdoch was "unrepentant" and believed he was "above the law".
"He has not been straight with Parliament, with the Leveson Inquiry, or with anyone, and has yet to be properly called to account," she said.