Prince Harry qualifies as Apache helicopter commander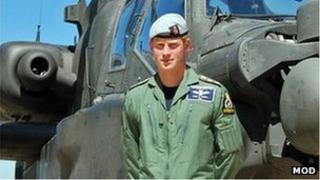 Prince Harry has qualified as an Apache helicopter commander, the Ministry of Defence has announced.
The qualification marks the culmination of three years of training, and means he can now take overall control of the helicopter on missions.
The prince's commanding officer said he passed with "flying colours" and was now at the top of his profession.
Earlier this year, the 28-year-old completed a five-month tour of Afghanistan as a co-pilot gunner.
During his deployment in Helmand the prince shared flying duties and took control of the weapons of the two-man Apache.
And he revealed that he had fired on the enemy, saying: "Take a life to save a life.
"If there's people trying to do bad stuff to our guys, then we'll take them out of the game, I suppose."
His first tour was cut short in 2008 after 10 weeks because a media blackout was broken. He was removed from Afghanistan in case he became a target.
To pass his latest qualification the Prince - who goes by the name Capt Wales in the army - conducted months of training before completing a "gruelling" six-hour flying assessment which required him to fly over the UK and conduct a simulated low level attack, the MoD said.
A Kensington Palace spokesman confirmed that the prince "will continue with normal duties as an Apache pilot based at Wattisham Airfield".
He was awarded a prize for best co-pilot gunner when he first qualified as an Apache pilot in February 2012.