Abu Qatada: The security problem Jordan doesn't need?
By Steve Swann
BBC News Home Affairs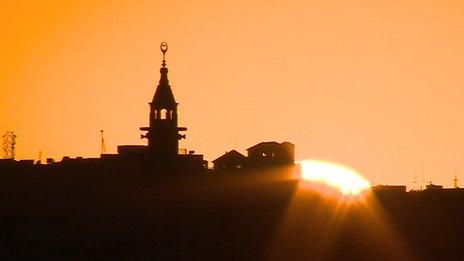 As the extremist cleric Abu Qatada finally prepares for deportation from the UK, what will face him in his home country, Jordan? He knows he will be retried on terrorism charges - but there are serious questions as to whether Jordan will be able to convict a man whom a British judge dubbed "a truly dangerous individual."
The Jordanian authorities don't like to use the word "prison" - but once Abu Qatada arrives on home soil, that's exactly where he will be heading.
As he steps off a plane, there will be no welcoming party. He will be arrested and taken to a civilian prison where the process of his retrial will begin.
The authorities have confirmed that Jordan's General Intelligence Directorate (GID), the security service implicated in the mistreatment of detainees, will not be involved in his arrest, questioning or detention.
The Juweida Reform and Rehabilitation Centre, the jail where he will probably end up if he is kept in the capital, sits on a noisy road on the southern fringes of Amman. It houses up to 1,000 prisoners awaiting trial.
The nervous staff who escorted us said they were not authorised to tell us about the category of prisoners or even show us the cells.
Instead we were taken to a room used for family visits. Festooned with flags and pictures of the King, left over from Independence Day celebrations, it resembles an English village hall.
Given the level of public interest in the case, few expect Abu Qatada to be mistreated while in detention.
His fair treatment is theoretically guaranteed by agreements between the UK and Jordan, including this year's game-changing Treaty that paved the way to deportation.
But despite the guarantees in the recently negotiated treaty, there are concerns about the trial which is expected to be at the State Security Court.
Home Secretary Theresa May told MPs "it is not a quasi-military court", as suggested by critics.
But when we drove up a hill in the Marka district of the capital, we found the court opposite the Army's headquarters. Behind a chain-link fence, soldiers watched a small demonstration against the court's conviction of a group of jihadists.
The composition of the State Security Court has been altered so that Abu Qatada's trial will be heard by three civilian judges, although the public prosecutor is a military officer.
Adam Coogle is the Amman-based researcher for Human Rights Watch. He says the introduction of the civilian judges is an "extraordinary concession" - but he warns that "you are essentially depending on the goodwill of the receiving government" in a country with a less than perfect human rights record.
Once the summer recess is over Abu Qatada will be brought to this court to face allegations that he was involved in two terrorism plots. His original convictions have been thrown out - so the trials must start again.
Reform and Challenge Trial
In April 1999 Abu Qatada, by then already in the UK, was convicted of conspiracy to cause explosions in what was known as the "Reform and Challenge" trial.
It followed a series of four bombings including of the American school and the Jerusalem Hotel in Amman the previous year.
The cleric was sentenced in absentia to life imprisonment with hard labour.
But much of the evidence against him came from an incriminating statement by the plot ringleader, Abdul Nasser Al-Hamasher. He said Abu Qatada had provided encouragement before and praise after the attacks.
Al-Hamasher later claimed he had been tortured by the GID.
When the European Court of Human Rights (ECtHR) looked at the case, it said there was evidence that Al-Hamasher had been beaten.
It ruled that the cleric could not be deported because of the "real risk" that torture-tainted evidence would be used against him.
It was this critical judgement that sparked the frenetic round of visits by British officials and ministers, determined to find a way to kick out Abu Qatada.
The Jordanian authorities didn't appear keen to take him back.
But a breakthrough came with the negotiation of the March treaty which outlawed the use of torture evidence in trials.
Jordan's parliament backed the treaty because it contained clauses making it easier for Amman to get its hands on suspected criminals it is much keener to jail than Abu Qatada.
They include King Abdullah's uncle, Walid al Kurdi, who in June was sentenced in his absence to 37 years on charges of corruption. He is believed to be living in London.
What the banning of torture evidence means for Abu Qatada is not clear. Al Hamasher and Abu Hawsher, another man who testified against him, are now at liberty.
They could be called as witnesses in the retrial. Their lawyer has told the BBC that they will say they were tortured into giving their confession, but he says Abu Qatada may be pressured to admit he was involved in the plot.
Jordan's Minister of Justice Ahmad Ziadat has dismissed talk of an unfair trial.
"He will not be mistreated," he said. "He will have a fair trial and this is guaranteed by Jordanian laws and the constitution.
He says the cleric's trial "may shed more light on his role in financing terrorist acts and planning terrorist acts, which is important for the security of the country."
Claims of fund raising feature in the second plot linked to the cleric - but so do allegations of torture.
In 2000 the cleric was again tried and convicted in relation to a plot involving nearly 30 men.
Ali Soufan was an American FBI agent. In his book on his career, he reveals how he worked with his Jordanian counterparts to smash a cell planning attacks to coincide with the Millennium.
The cell had planned to launch attacks on a hotel in Amman, a border crossing with Israel, the Christian holy site of Mount Nebo and the stretch of the River Jordan where Jesus was baptised, which the Pope planned to visit.
As the hunt for the cell gathered pace, an FBI agent clambered through a basement trapdoor in an Amman house and discovered urns leaking acid. The chemicals were for bombs. Guns, ammunition and detonators were uncovered at other locations.
"The Millennium Plot was extremely serious," Ali Soufan told the BBC. "They had the people in place. They knew the areas they wanted to hit. They had the plans for it.
"They had the safe houses. They were talking about bodies being in bags, lots and lots of dead people. That's what they wanted to accomplish."
Abu Qatada was accused of providing cash for a computer used in the plot and encouragement to the cell through his writings. He was sentenced to 15 years' imprisonment with hard labour.
But as with the first conviction, the central evidence against him appears to have come from coerced confessions. Co-defendant Abu Hawsher says he was mistreated during 50 days of GID detention.
Meanwhile Abu Qatada's family nervously await his return after two decades of exile. His youngest brother Ibrahim runs a small café on a rundown street flanked by plumbing supply stores.
He serves us cups of sweet tea but will not speak about his brother's case. Family friend Marwan Shehadeh explains why Abu Qatada, after years of publicly-funded legal resistance, dramatically threw in the towel.
"He is fed up of being arrested for a long time" says Mr Shehadeh. "He decided finally to return to his homeland."
Part of the cleric's thinking seems to have been based on a belief that he may be acquitted.
"The evidence against Abu Qatada is not so solid," adds Mr Shehadeh. "I do believe that he will not be found guilty."
He is not alone in thinking his old friend could soon be free to walk these streets. We were told privately of official fears over the weakness of the case against him. And a British judge has already described some of the allegations as "extremely thin".
So for the Jordanians this is a security issue they could do without.
But for the British Government, the priority has always been to get rid of a man who, after last year's extradition to the US of Abu Hamza, had become Public Enemy Number One. Finally it has got its way.