Donald Trump sued over failed Florida deal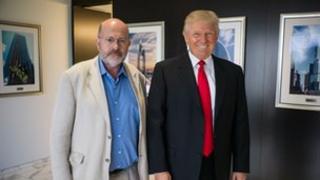 US tycoon Donald Trump faces questions over a failed property development in Florida where investors are suing him and others for nearly $8m (£5.4m).
They say they were kept in the dark about his limited role, where he was the public face of the development under a licensing deal, rather than the actual developer.
And they are also alarmed about the involvement of a former Trump associate who, it is now known, had previous links to the Mafia.
Donald Trump is defending the lawsuit and says sometimes a partner "isn't as good as we'd like".
Trump brand
The American billionaire made his money in property but now the Trump empire encompasses everything from mattresses to suits.
Forbes magazine estimates that he has made $63m (£42m) in the year to June.
The TV personality, who was the star of the original US NBC series The Apprentice, frequently licenses his name in deals.
"As I start going further away from New York and even the United States, I do deals with partners," Donald Trump told me at his Manhattan headquarters.
"And frankly, some of them are the best deals I've ever made because I don't have to put up money."
But there are questions about a failed development in Fort Lauderdale, Florida, which never opened because the developer went bust.
Failed Florida scheme
Investor Marc Renaud thought he was buying into the Trump brand.
"I was absolutely shocked," he said.
"I bought a Donald Trump elegant condo, I bought prestige, I bought the Rolls Royce only to find out that 'Rolls Royce' was just a little sticker."
Florida lawyer Joseph Altschul is representing 75 purchasers of 53 units in the project that was to be known as the Trump International Hotel and Plaza, Fort Lauderdale.
"Their losses, their total deposits were a little under $8m," he said.
Investors are also worried about the involvement of one of Donald Trump's former financial associates - ex-convict Felix Sater - in the deal.
In the late 1990s, Mr Sater was arrested for a $40m Wall Street scam involving four Mafia families. He gave evidence against the Mafia, pleaded guilty and the FBI kept his role secret.
"You don't expect to see that type of influence and character when you're buying into this type of project," said Joseph Altschul.
Part of the investors' case is that they were not told of Felix Sater's past and his previous links with the Mafia.
"You're fired"
When Donald Trump learned about Mr Sater's past, what did he do?
I put this to him at Trump Towers in New York.
"Shouldn't you have said: Felix Sater, you're connected with the Mafia and you're fired?" I asked.
"Well, first of all we were not the developer there, that was a licensing deal," said Mr Trump.
And then I pressed him.
"You stayed in bed, if I may say so, with Felix Sater and he was connected with the Mafia," I said.
"Again John, maybe you're thick but when you have a signed contract, you can't in this country just break it," said Donald Trump.
"Sometimes we'll sign a deal and the partner isn't as good as we'd like."
In a bunker?
And there is also disquiet across the Atlantic in Scotland.
Donald Trump bought the Menie estate near Aberdeen in 2006 for £7m.
He promised to invest £1bn and create 6,000 new jobs across Scotland by building two golf courses, a five-star hotel and 1450 new homes and flats.
To date, one golf course and one temporary club-house have been built.
The Trump Organisation says it has created 200 jobs and planning is under way for a second golf course.
So how much is the land, with its outline planning permission for 500 homes now worth?
"I think at a conservative estimate probably about £100m," said Jed Griffiths, the former head of Royal Town and Country Planning Association.
Donald Trump says plans to build 11 offshore wind turbines that would spoil the view have halted further investment.
It has also led to a dispute between the Scottish First Minister Alex Salmond and the US tycoon.
"I don't want to be standing on the first tee looking into an industrial wind turbine if I'm going to be spending all this money," said Donald Trump.
"He [Alex Salmond] said it would never happen."
The first minister completely denies this and says he is disappointed that thousands of jobs have not materialised as originally envisaged.
"Mr Trump and I have a fairly well-ventilated disagreement about the energy policy of Scotland," said Alex Salmond.
"But our investor doesn't by virtue of becoming an inward investor have a right to dictate the energy policy in Scotland."