Impact of housing benefit changes 'worse than feared'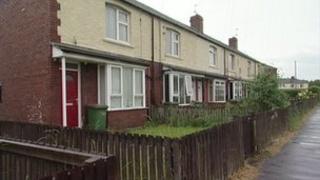 The consequences of the housing benefit cut introduced in April are worse than feared, the National Housing Federation has said.
Rent arrears have soared in some areas while larger houses are lying empty as people refuse to move into them.
Housing benefit recipients of working age, in social housing with spare bedrooms, had their benefit cut by an average £14 per week from April 1.
Ministers say the impact of the benefit cut is being monitored closely.
The government wants to end what it calls the "spare room subsidy" for social tenants, but critics have dubbed the move a "bedroom tax".
"The impact is at least as bad as we had anticipated, in many respects even worse," says David Orr, chief executive of the National Housing Federation.
"What we've seen are really bad effects on individuals, people whose lives have been turned upside down, who are very frightened about the future," says Mr Orr.
One of the government's stated aims for cutting housing benefit for people with spare rooms was to get them to move, thereby freeing up homes for families living in overcrowded properties.
Ministers say this is starting to happen but two housing associations have told BBC News that since the welfare change, they have large family homes lying empty because tenants cannot afford to move into them.
Coast and Country Housing, which owns more than 10,000 properties on Teesside, says it is struggling to rent out some properties.
"The numbers of empty homes we've got to let are increasing significantly," says Iain Sim, chief executive of Coast and Country.
"People are now telling us that because of bedroom tax, they can no longer afford to move into the bigger family homes, and as a consequence of that we're getting fewer lettings and more empty houses."
Across the country in Merseyside, it is a similar story. Cobalt Housing, which owns nearly 6,000 mainly family homes in Liverpool, says the benefit change is putting "terrible pressure" on tenants.
"We have perfectly good, three-bedroom homes that people are telling us they can't afford to live in, because of the bedroom tax," says managing director, Alan Rogers.
'More crime'
On the edge of Middlesbrough sits the South Bank housing estate - home to post-war, ex-local authority two and three bedroom properties.
When heavy manufacturing - steel making and ship building - mattered this was the right place at the right time. But today it feels like the wrong place at the wrong time as low wages and high benefit dependency define the community.
On one street alone here, there are four properties that Coast and Country Housing says are empty because tenants are unwilling to rent them as a result of the benefit cut.
Neighbours agree, and worry about the consequences of an increase in the number of empty houses.
"No-one will want to live around here, and you're also going to see more crime," said one resident.
Rent arrears are also on the increase - as they are in other parts of the country.
East Ayrshire Council says its arrears have increased by 340% following the benefit cut.
Increases in arrears have been reported in Dundee, Bolton, Manchester, Cambridge, Leeds, London, north and south Wales.
"Some people who have never been in arrears in their entire lives are in arrears and are horrified that they are in that position," says David Orr from the National Housing Federation.
One of those people now in debt is Alison Huggan from Middlesbrough, whose case was raised by Ed Miliband in February during Prime Minister's Questions.
She lives in a three bed house, keeping two bedrooms spare for her 18-year-old twin sons to use when they are home from the Army.
'Applications soaring'
The government announced that the parents of children in the military deployed on operations would be exempt from the cut. But Alison has been denied help by Middlesbrough Council because her sons' main residences are deemed to be their barracks in Germany and Cyprus.
"I feel as though we've been cheated, and lied to," said Alison.
She applied for help to her council's discretionary housing payment scheme, a local authority administered fund which the government increased this year to help the transition to the new benefit rates.
Across the country however, the discretionary housing payment (DHP) scheme is under enormous pressure with applications soaring in most council areas since April, leading to delays in processing claims.
Local authorities are free to interpret who they help, which has resulted in variations in the cover that people are getting.
Alison is now trying to move to a smaller house but nothing has yet become available.
Also looking for a smaller property is Paul Wilson.
The 38-year-old has had his housing benefit cut by £11 per week since April but instead of going into debt, he's cut back on his outgoings, particularly energy and food.
"I now get by on one meal a day," he said.
His fortnightly food budget is £25. He's been looking for a job for years and has tried unsuccessfully on two separate occasions to start his own business.
He's been told he's likely to wait years to find a one bedroom property in his neighbourhood on Teesside. But even if that happens, a move won't be straightforward.
"Even if someone is willing to move, there's no funding for removal costs. [I'd have to find] money to move, which basically I just don't have," he said.
Ministers argue they have to introduce the cut to contain the bulging housing benefit bill.
In a statement, the Department for Work and Pensions said: "The removal of the spare room subsidy is returning fairness to housing when in England alone there are nearly two million households on the social housing waiting list and over a quarter of a million tenants are living in overcrowded homes.
"As with any major reform, we are monitoring the changes to housing benefit closely - including possible arrears levels and how councils are spending the extra £150m in funding for vulnerable claimants."