Gibraltar 'shooting': David Cameron protests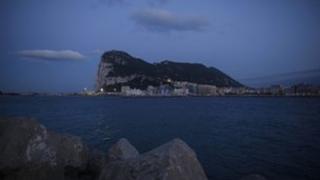 David Cameron has protested to Spanish PM Mariano Rajoy after Guardia Civil officers allegedly fired shots at a jet-skier in UK waters, off Gibraltar.
The UK prime minister, who confronted Mr Rajoy at a Brussels summit, said: "I think this is a totally unacceptable episode and I made that clear."
Europe Minister David Lidington has said a Spanish officer fired a weapon in an "illegal incursion" on Sunday.
Spain has said there was no such incident.
Spain disputes UK sovereignty over Gibraltar, which has been a British colony since 1713.
The Daily Mail reported that officers on a Guardia Civil vessel shot at a British man as he rode his jet-ski in British Gibraltar Territorial waters, close to a beach.
Witnesses were said to have seen large rubber or plastic baton rounds being fired from the Guardia Civil and splashing into the water.
"I did raise this with the Spanish prime minister," Mr Cameron said.
He added: "I think it is very important that people on Gibraltar know that we support them, we support their sovereignty.
"We need to find out more about what happened but from what I have heard... it is not acceptable."
Earlier this week, a spokesman at Spain's Ministry of Foreign Affairs told the BBC the Spanish government and the Spanish Civil Guard said that "no shot was fired".
The Spanish government said it was "disappointed" the British government had taken "widespread rumours as facts".
Asked whether there was an incident at all involving a jet-ski and the Spanish Civil Guard, the spokesman said "there was no incident".