Phone hacking: Go-ahead for Brooks and Coulson cases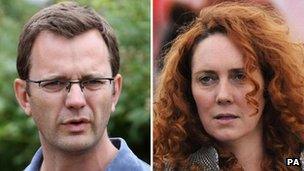 Five former News of the World staff members, including ex-editors Rebekah Brooks and Andy Coulson, have lost a legal attempt to block their prosecution on phone hacking charges.
Revelations about hacking led to the closure of the newspaper in July 2011.
The trial is due to take place in September, after Lord Chief Justice Lord Judge dismissed their appeals.
The five claimed accessing voicemails through hacking, after they had been listened to, was not an offence.
The two former NoW editors, alongside former senior reporter James Weatherup, former managing editor Stuart Kuttner, and former news editor Ian Edmondson, have all denied conspiracy to intercept mobile phone voicemails between 3 October 2000 and 9 August 2006.
Lord Judge allowed the names of the defendants to be reported, saying: "We can see no possible prejudice to the fairness of the forthcoming trial.
"We must not be unrealistic - there can hardly be anyone in the country who does not know to whom this case applies."
The five defendants argued that the accessing of voicemails through hacking, after they had been listened to by the intended recipient, was not an offence under the Regulation of Investigatory Powers Act 2000.
The Court of Appeal disagreed, saying "contrary to the submission on behalf of the appellants, the resulting situation is not lacking in legal certainty."
The Court also refused to give the go-ahead for the five defendants to take up the issue with the Supreme Court, the highest court in the land.
Lord Judge said the five would only pay legal costs if they are convicted.