Bee decline: Government announces 'urgent' review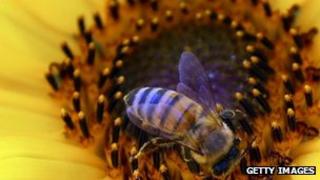 The government has announced it will carry out an "urgent and comprehensive" review of the decline of bees.
Minister Lord de Mauley told a bee summit, organised by Friends of the Earth, that the review will lead to a "national pollinator strategy".
There is great concern across Europe about the collapse of bee populations and the European Commission wants to ban pesticides linked to bee deaths.
But the UK has opposed the move, saying that the science is inconclusive.
The review is expected to look at current policies, the evidence on what is happening to bees and other pollinating insects and what action charities and businesses are taking to help the insects.
The work will form the basis of a "national pollinator strategy", which will bring together all the initiatives already under way and help develop new action.
'Alien species'
Lord de Mauley said: "We must develop a better understanding of the factors that can harm these insects and the changes that government, other organisations and individuals can make to help."
Defending the government's position on Neonictinoid chemicals in pesticides, the minister said bees would be vulnerable with or without restrictions on insecticides.
He said: "I do not deny for a moment that it is important to regulate pesticides effectively and to avoid unnecessary pesticide use."
But he added: "Changes in land use, the type of crops grown, alien species, climate change - these all have an impact. The relative importance of these factors and their interactions is not well understood."
Friends of the Earth's executive director Andy Atkins welcomed the review.
He said: "We all agree prompt measures are needed to tackle all the threats bees and other pollinators face, but an urgent and comprehensive route map and timetable are needed to ensure this happens.
"The minister's plan of action must be in place when bees emerge from hibernation next spring - we can't afford to gamble any longer with our food, countryside and economy."