Afghan detainees drop legal challenge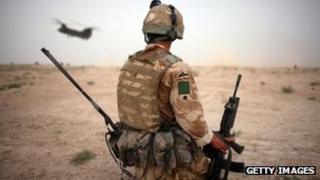 Two Afghan detainees captured by British forces have dropped legal challenges to their detention and can now be transferred to the Afghan authorities, the High Court has heard.
The High Court was told that the pair was "happy to go".
However, the transfers of a further 90 detainees remain blocked while their positions are clarified.
The UK wants to restart the transfer of the suspected insurgents, who are being held at Camp Bastion without charge.
The two who dropped their challenge are Niahmutullah Haqim and Mohammed Ismail.
They were the lead cases in a High Court hearing in London due to start on 19 July.
Seven other detainees involved in the hearing are to be contacted by their UK lawyers shortly to see whether they want to continue their legal challenge.
The judge, Sir John Thomas, was told that another applicant - a Mr Yahyah - was also "minded to withdraw" from next month's High Court challenge.
James Eadie QC, appearing for the Ministry of Defence, told the judge the case seemed "on the verge of disappearing".
Transfer risks
The UK wants to move the men to the Afghan National Detention Facility within Bagram airbase in Parwan province, about 700km (450 miles) from Camp Bastion. It is monitored by US forces and the Ministry of Defence considers there is no risk of mistreatment.
On Thursday the judge also ordered that 83 suspected insurgents being held must be contacted again by the Ministry of Defence to ensure the risks of transfer have been properly explained to them.
The transfer of detainees from the UK's main base in Afghanistan to Afghan authorities was banned in November by Defence Secretary Philip Hammond because of fears that they would be abused.
However, earlier this month Mr Hammond said that the facility at Parwan had received "positive reports" from humanitarian organisations.
The Ministry of Defence had planned to restart the transfers this week.
However, this prompted lawyers acting for some of the detainees to successfully apply for an injunction from the High Court.
Many of those being held are suspected of involvement in preparing, laying, or facilitating the use of improvised explosive devices against British forces, or have been picked up at the scenes of shootings of British soldiers.