Coral gambling advert broadcast on Cartoon Network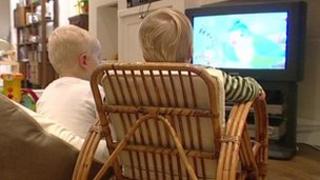 A TV company committed a "serious breach" of rules by screening an advert for a bookmaker on its children's channels, a media regulator has said.
The advert for Coral was broadcast nine times on Saturday 25 May between 06:42 BST and 08:42 on Turner Broadcasting's Cartoon Network and Boomerang channels.
The Advertising Standards Authority (ASA) said Turner had explained that the advert was broadcast in error, and had "apologised unreservedly".
Coral said it was "horrified".
Incredible Hulk
The advert opened with a voiceover saying: "This is Coral gaming, online and on mobile" before showing a shot of the Incredible Hulk, among other images.
The ASA said the broadcast code strictly prohibits gambling adverts "in or adjacent to programmes commissioned for, principally directed at, or likely to appeal particularly to audiences below the age of 18 years".
Failure to comply with this requirement was a "serious breach", it said.
Seven viewers complained that the advert was unsuitable for broadcast on dedicated children's channels.
The ASA said the advert had been cleared with a note reminding broadcasters of the gambling industry's voluntary agreement not to schedule gaming adverts before 21:00.
It added it was "deeply concerned" the advert had been broadcast but acknowledged Turner's assurance that it was taking steps to prevent the mistake being repeated.
It ruled that no further action was necessary because the advert had already been removed from broadcast.
Turner said it had been "inadvertently and incorrectly scheduled" after a booking number was erroneously allocated to the advert.
Adverts suspended
The company said the advert would not be broadcast again on its children's channels.
"We apologise unreservedly and have reviewed our transmission processes to ensure this highly regrettable incident remains a one-off occurrence," it added.
Coral said neither it nor its agency had booked advertising air time on children's channels or during any other children's programmes.
After being notified of the error, it instigated an investigation and suspended all other Coral adverts due to be aired by Turner that weekend.