Lawrence friend Duwayne Brooks 'bugged by police'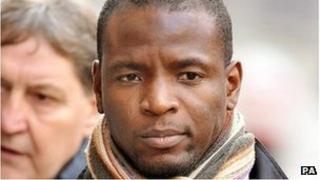 The Met Police secretly recorded its officers' meetings with Stephen Lawrence's friend Duwayne Brooks and his lawyer, the BBC has learned.
Mr Brooks was with the 18-year-old on the night he was killed in a racist attack in 1993 in Eltham, south London.
Mr Brooks and his lawyer were unaware that the meetings were being recorded.
Scotland Yard said its directorate of professional standards was looking into the claim and treating it with "huge seriousness".
It comes after the home secretary said claims that police tried to smear Mr Lawrence's family will be looked at by two existing inquiries.
A senior police source told the BBC authorisation was given to record two meetings between Mr Brooks, his legal representatives and police officers from the investigation team.
'Scandalous'
The revelations will add to pressure on the Met following claims that undercover police officers tried to smear Stephen Lawrence's family and anti-racist campaigners following his murder at a bus stop.
An undercover policeman has alleged that he was also instructed to find information that could discredit Mr Brooks.
The bugged meetings were held in an interview room at the offices of Deighton Guedalla, in Islington, north London, in 1999 or 2000.
Mr Brooks's lawyer, Jane Deighton, said she was present at one meeting, and her colleague, Jo Eggleton, attended the other meeting.
Mr Brooks - who was a witness for the prosecution at the Stephen Lawrence murder trials in 1996 and in 2011 and 2012 - was there at both.
A senior Met detective also attended both meetings, and it is thought one or two other officers may have been present.
Ms Deighton says she believes the meetings were intended to brief Mr Brooks and his lawyers on the progress of the investigation, which was given new impetus in 1999 when Deputy Assistant Commissioner John Grieve took over and when the Macpherson Inquiry was published into the murder case.
She said if true that the meetings were recorded "it's scandalous".
She said: "Under the guise of briefing us they were covertly recording us."
She has faxed the Met Commissioner, Sir Bernard Hogan-Howe, seeking confirmation.
It is understood, however, that paperwork still exists relating to the requests for authorisation to record the meetings.
The source says a senior Met officer granted the request.
The forms - known as 728s - were uncovered several years ago, and the details were passed on to the Met's complaints department.
Under legislation which came into force in Autumn 2000, requests for non-urgent secret recordings have to be approved by the surveillance commissioner.
Before then, however, senior officers could sanction such requests by themselves.
Although meetings between lawyers and their clients are protected by confidentiality rules, it is unclear whether a briefing held with police officers at a solicitor's office is subject to the same rules.
One legal expert said it would depend whether it was made clear at the start of the meeting that it was a "privileged conversation".
In a statement, a Scotland Yard spokesperson said: "The Commissioner's office has passed the matter to the head of the Directorate of Professional Standards, Assistant Commissioner Fiona Taylor.
"She has started to look into it immediately and is treating it with huge seriousness."
The Met Police confirmed Mr Brooks' solicitor had asked on Tuesday whether a senior officer had been authorised to covertly record the meetings.
It said the investigation by the directorate would seek to establish "exactly what was authorised and what happened to any material which may have been gathered, in the context of the legal framework of that time".
The development comes amid calls for an independent inquiry to be launched into claims that police tried to uncover evidence to smear the Lawrence family.
They include the former police officer, Peter Francis, whose claims originally appeared in the Guardian.
He said "only a judicial-led or public inquiry... has any chance of ever establishing the truth".
Former Met Police assistant deputy commissioner Brian Paddick has said Mr Brooks told him about the recordings a year ago.
But he told BBC Radio 5 live he did not go public with the information because Mr Brooks did not want him to.