Stephen Lawrence officer will only give evidence to fresh inquiry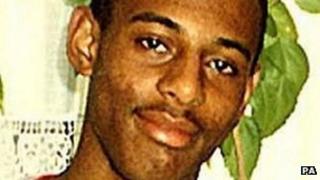 An ex-police officer who claimed he was asked to smear murder victim Stephen Lawrence's family has said he would only give evidence to a fresh inquiry.
Peter Francis said he had "no faith" in two existing inquiries that the home secretary says can probe the allegations.
He told the Guardian "only a judicial-led or public inquiry... has any chance of ever establishing the truth".
There have already been a number of calls for a wider inquiry.
Met Police Commissioner Sir Bernard Hogan-Howe has said he would support a public inquiry if the government decided on this.
Black teenager Stephen, 18, was stabbed to death in an unprovoked attack by a gang of white youths as he waited at a bus stop in south-east London in April 1993.
A number of suspects were identified but it took more than 18 years to bring his killers to justice. An inquiry accused the police of institutional racism and found failings in how they had investigated the murder.
Former undercover officer Mr Francis told the Guardian and Channel 4's Dispatches programme that after Stephen's killing he posed as an anti-racism campaigner in a hunt for "disinformation".
Working as part of the Metropolitan Police's Special Demonstration Squad (SDS), he said he had come under pressure to find "any intelligence that could have smeared the campaign" - including whether any of the family were political activists, involved in demonstrations or drug dealers.
But answering readers' questions in a webchat for the Guardian on Wednesday, Mr Francis said: "I will not co-operate at all with the two inquiries the home secretary said can deal with these matters, even if they are 'supervised' by the Independent Police Complaints Commission.
"I have no faith in any of these inquiries.
"If there is a public inquiry, I will happily give all my evidence under oath, explaining what I personally know about the SDS and covert policing of protest groups."
Home Secretary Theresa May announced on Monday that Mark Ellison QC - who successfully prosecuted Gary Dobson and David Norris for Stephen's murder in 2012 - would look into the smear allegations are part of his ongoing examination of police corruption during the original investigation into the killing.
She said they would also be looked at as part of Operation Herne, which is an investigation into undercover policing at the Met Police, being led by the chief constable of Derbyshire police, Mick Creedon.
But Mr Francis has joined calls from other quarters for a wider inquiry.
Michael Mansfield QC, who represented the Lawrence family, told BBC Radio 4's Today programme, a Leveson-style inquiry was needed into the ethics of policing.
With regards the SDS, he said a "squad of that size, involving those numbers, involving public expenditure of this kind does not go without authorisation from a very high level."
The now-disbanded SDS examined anti-war and anti-nuclear movements, groups linked to paramilitaries in Northern Ireland, animal rights campaigns and the environmental protest movement.
A number of serious allegations have been levelled at the SDS, including:
that officers used the identities of dead children to create their undercover personas
that some officers had sexual relationships with female targets to increase their credibility and gain evidence. At least one relationship led to a child
that one of the senior officers, Bob Lambert, co-authored the controversial "McLibel" leaflet, which was at the centre of the longest running civil trial in English history
that officers infiltrated political groups protesting about police corruption in the 1990s, including the Colin Roach Centre, which was named after a 21-year-old black Briton who died in the foyer of Stoke Newington police station
'Clearly wrong'
Stephen's father, Neville Lawrence, has also said "nothing short of a judge-led public inquiry will suffice".
But Stephen's brother Stuart Lawrence told ITV's This Morning one was not needed if a list of questions the family had presented to the Met Police commissioner were answered.
Sir Bernard Hogan-Howe told radio station LBC there were "two or three layers of independence" in the inquiries already set up, but he understood why a wider probe was wanted.
A public inquiry could "take a long time", he said, and any discovery of wrongdoing would still have to be investigated further by the Independent Police Complaints Commission or the police themselves in order to take criminal or disciplinary action.
But he added: "If the government or Parliament decides they would prefer a public inquiry, of course we would support that."
The commissioner said he had ordered a review of undercover operations after taking charge two years ago and was confident things were "running correctly now".
Lord Condon - who was Met commissioner from 1993 to 2000 - has said he was not aware of any order to smear the Lawrence family and any such attempts would be "clearly wrong".
Pressure for a public inquiry has come from other sources too, including former Met Police Deputy Assistant Commissioner Brian Paddick and former Director of Public Prosecutions Lord MacDonald.