David Dinsmore replaces Dominic Mohan as Sun editor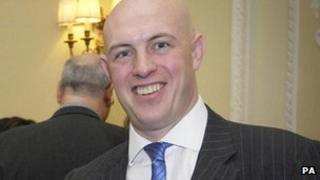 David Dinsmore is to replace Dominic Mohan as editor of the Sun newspaper.
Mr Mohan, who has held the post since 2009, is to move on to an advisory role for the chief executive of News Corp.
The move comes as part of a series of changes following Rupert Murdoch's decision to split his newspaper business from his film and broadcasting interests.
Mr Dinsmore, 44, is a former editor of the Scottish Sun and will take up his new role on Monday.
Mr Mohan joined the newspaper in 1996, working on its celebrity "Bizarre" column.
He rose up the ranks and was appointed deputy editor under Rebekah Brooks in 2007. When she left two years later to become a chief executive of the newspaper's publisher News International, he took her place as editor.
'No better job'
In 2012 his responsibilities expanded with the launch of the paper's Sunday edition. It came after the closure of the News of the World following revelations about phone hacking.
Mr Mohan, 44, gave evidence to the Leveson Inquiry in February last year as part of its investigation into the culture and ethics of the press.
He said: "It has been a real privilege to edit the Sun, an intrinsic part of modern Britain, loved by its readers and unmatched by its rivals.
"I am confident the Sun will go from strength to strength, and now look forward to a new challenge of helping a brand new company find its feet and build a strong future for its journalism across the globe."
In his new role, he is expected to focus on exploring strategic opportunities for the company across Europe.
Mr Dinsmore joined the Scottish edition of the newspaper at the age of 22, rising to be its editor in 2006.
He was subsequently promoted to general manager of the company's operations in Scotland in 2010.
Following a brief stint as the managing editor in London, he joined the executive of News International last October as director of operations.
He said he "relished the opportunity" of his new role, adding that there was "no better job in journalism".
Mike Darcey, chief executive of News International, praised Dominic Mohan's "imagination and flair" and said Mr Dinsmore was "ideally placed to take the team to even higher levels".