Abu Qatada treaty approved by UK Parliament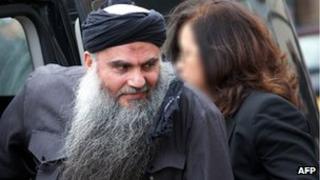 Parliament has backed a treaty between the UK and Jordan intended to pave the way for the deportation of Abu Qatada.
The radical cleric has indicated that he will not challenge deportation once the treaty has been fully ratified.
But it will not come into force until it is published in an official newspaper in Jordan and there has been an exchange of diplomatic letters between the two countries.
The BBC understands that this is unlikely to happen before early July.
BBC home affairs correspondent Danny Shaw said the treaty would need to be published in the Jordanian government's Official Gazette before it can be fully ratified, and the next publication is expected on 2 July.
Once the ratification process is complete, the UK government will need to re-start deportation proceedings.
Abu Qatada will have the right to challenge deportation, but he has previously said he did not intend to do so because the international agreement would guarantee him a fair trial.
'On a plane'
The Home Office said: "We welcome the approval of the treaty by both the UK and Jordanian parliaments.
"Our focus remains on seeing Abu Qatada on a plane to Jordan at the earliest opportunity."
BBC foreign affairs analyst Nicholas Wade said the case of Abu Qatada seemed to have made little impact on public opinion in Jordan.
Some members of the House of Representatives reportedly said they did not support a treaty is its objective was to return Abu Qatada.
Politicians were keen not to be seen as bowing to the will of Britain, the former colonial power in Jordan, our analyst added.
But as the treaty passed through parliament, Prime Minister Abudullah Ensour emphasised that it would also help Jordan pursue expatriates resident in Britain suspected of corruption.
Britain has been trying to deport Abu Qatada since 2005, and he has been detained and released several times during the legal battle.
The Home Office recently revealed the eight-year legal fight to deport the cleric has cost taxpayers more than £1.7m so far.
Abu Qatada arrived in Britain and claimed asylum in 1993, but became notorious for preaching radical views such as support for the killing of Jews and people who leave Islam.
In 1999, the cleric was convicted of terrorism charges in his absence in Jordan and sentenced to life in prison.
He now faces a retrial on those charges, but his lawyers have said some of the evidence may have come from people who were tortured to make them implicate him.
The European Court of Human Rights and senior British judges had ruled that before Abu Qatada could be deported, Jordan must show he would not face a trial that relied on evidence obtained by torturing others.
Abu Qatada is currently in London's Belmarsh Prison after breaching a bail condition in March which restricted the use of mobile phones and other communication devices.